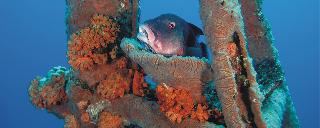 Diving Centre
Paradis Beachcomber Golf Resort & Spa
Located in the south-west of the island, at the heart of the 5-star Paradis Beachcomber Golf Resort & Spa, this diving school offers some of the most renowned dives of Mauritius in crystalline waters. For any certified diver, diving at St Jacques pass will be an unforgettable experience, as rays and sharks can quite certainly be expected there.
The best diving sites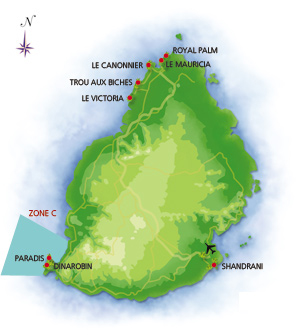 THE BEST DIVING SITES OF ZONE C
FLIC-EN-FLAC AQUARIUM (9-20m)
Accessible to divers of all levels between 9 and 20 metres, this site is situated on a coral reef interspersed by sandbanks. Due to the very rich tropical fauna of this place, you will dive amidst schools of carandines and mullets… Awaiting you in between the reefs: groupers, morays and lionfish. A fantastic dive for beginners.
HOI SIONG (16-28m)
Sunk in February 2003 in order to create an artificial reef, this 'new' wreck already accommodates a multitude of fish. Predators like trevallies and tunas can indeed be seen chasing thousands of small fish near the wreck of the Hoi Siong.
LA GORGONE (14-35m)
A giant gorgonian exceeding 3 metres in diameter and located on a 20-metre wall constitutes the major attraction of this site, where divers can often be seen in the company of blue trevallies.
BAIE DU CAP - SOUTH
ST JACQUES (16-32m)
A breathtaking dive in one of the most beautiful passes of Mauritius, where eagle rays, sharks, schools of trevallies and tunas can often be seen. However, this site is mostly famous for the (very rare) giant lobsters that dwell there.
WHITE TIP (18-32m)
The shark dive par excellence! Just as St Jacques, the White Tip is located on the south coast of Mauritius, which has the advantage of being still preserved. That is why the site teems with life: white tip sharks, barracudas, trevallies, groupers, lionfish, morays…