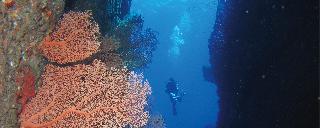 Diving Centre
Shandrani Beachcomber Resort & Spa
Located in the south-east of the island at the heart of Shandrani Beachcomber Resort & Spa, this diving school overlooks Blue-Bay's Marine Park. Resort courses as well as international certification courses of different levels are offered in this protected Marine Park. For the more experienced divers, and depending on weather conditions, the Colorado and "Roche Zozo" will take them into a magical universe.
The best diving sites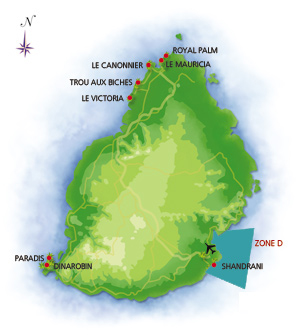 THE BEST DIVING SITES OF ZONE D
COLORADO (20-40m)
This dive takes you along a drop-off that successively takes on the appearance of a canyon, of an amphitheatre with its chimney, and eventually that of a long tunnel with its profusion of lobsters. The scenery is breathtaking: the vaults are adorned by pink gorgonians and corals, and parrotfish, surgeonfish and unicorn fish can often be seen near the tall stone walls. Large predators such as wahoos, tunas, or barracudas are also frequently spotted there. A spectacular diving experience.
LOBSTER CAVE (18-25m)
A rich and colourful fauna, with huge rocks lined with corals, sponges and other soft corals spread out on the seabed. In the centre, a deep cave has been colonized by a group of lobsters. As you go deeper, a long and rather wide tunnel opens up in front of you. By all means, an entertaining dive!
ROCHE ZOZO (18-40m and more)
An alignment of rocky peaks, canyons, tunnels and caves… covered with pink corals and gorgonians. The dive site itself warrants more significance than the fauna that may be found there, such as tortoises or small sharks. A beautiful trip during which safety should nonetheless remain the by-word, due to the strong current there. One may indeed be rapidly spellbound by the beauty of the site, and it is, therefore, important to keep an eye on one's depth gauge.
THE SIRIUS (18-22m)
Diving on the site of this vessel with a glorious past is a real pleasure. The main part of the wreck rests 18 metres down on the sea floor. 19 cannons intertwined with each other, an oak frame, rivets and cannonballs provide a one-of-a-kind scenery. At times, this underwater landscape brings you some 196 years back into the past, with reminiscences of the smell of gunpowder all around and visions of flames coming out of these steaming cannons. Further north, the vessel's stern lies some 24m deep down. While ascending along the shoal, a great diversity of corals may be observed with a decompression stop at 3 metres. The only downside to this site is sometimes the reduced visibility due to the location of the site at the mouth of a river.