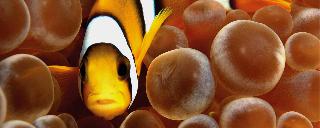 Beachcomber Scuba Diving Academy
Victoria Beachcomber Resort & Spa
Located in the north-west of the island, at the heart of Victoria Beachcomber, this diving academy is found on the beach itself, only 5 metres away from the water edges. Nominated in 2016 and 2017 by the World Travel Awards in the "Indian Ocean Leading Dive Resort" category, the diving academy can boast that we have the best dive site and the best service on the Island.
The diving academy is very close to diving sites that include three wrecks, drop-offs and magnificent dives on coral reefs. Specialised in children diving , the academy offers exclusive dives to families where children (as from the age of 10) can experience the wonders of Scuba Diving with their parents. The diving academy also has a full inventory of tailored children diving equipment.
The best diving spots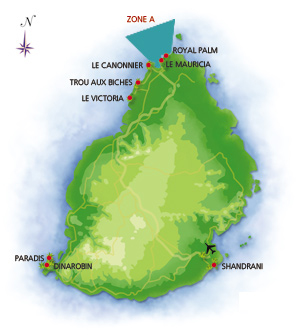 The North offers a rich and interesting array of diving experiences from 13 metres onwards, with colourful Madrepores, a teeming fauna, and purposely sunk ships to create artificial reefs and stimulate marine life… This part of the island offers excellent diving conditions all year long.
THE BEST DIVING SITES OF ZONE A
THE WALL (26m)
Diving to the left of Gunner's Quoin Islet, in the north of Mauritius, will bring you close to magnificent underwater elevations ascending to the surface and a splendid wall covered with gorgonians and an abundant reef life. All around, large parrotfish will provide beautiful escort during each dive, but occasional encounters with large predators, in particular the dogtooth tuna, have also been recorded. This difficult dive in strong current conditions ends at Confetti Bay, with multi-coloured corals, anemones and clownfish.
WHALE ROCKS – ROCHES BALEINE (26-38m)
This site for experienced divers will take you through varying depths. Whale Rocks offers an exceptional diversity of reef life within the 20m zone. As you leave around the stocks of parrotfish, wrasses and clownfish, you come across the large groupers, giant leopard morays or other globefish that normally dwell at these greater depths. Also, it is sometimes possible in summertime to come across large species such as marlins or sharks.
MERVILLE PATCHES (13m)
On this white sandy seabed, the light radiates on small patches of reefs scattered here and there. The site has been named after the numerous moray species that may be found on a
succession of reefs. This rich fauna is home to some rare or endemic fish species. A highly recommended site for photographers or for refresher dives.
GRAND BAIE AQUARIUM (14m)
The perfect dive for underwater photographers in search of shallow waters with a good source of light. Made up of sand and coral, the seabed harbours a dense and diverse fauna: small moray eels, torpedo rays, angels, lionfish or balistes…
THE BEST DIVING SITES OF ZONE B
STENOPUS (38-40m)
An exquisite dive, with emperor angelfish, anthias, large groupers and a thriving shoal of reef fish moving about an immense forest of green tubastrea corals rooted in large blocks of rock. Perchance, you may encounter big fish, beautiful rays, schools of barracudas and large tunas on the side of the drop-off.
HOLT ROCK (16-25m)
Here, the landscape is made up of corals encircling enormous granite boulders. This constitutes an ideal environment that provides hiding spots for the titan triggerfish that will bid you
welcome as soon as you get into the water, alongside the wrasses, parrotfish, clownfish, schools of snappers, nudibranchs of all sizes and colours, squirrelfish, and superb gorgonians. Out of sheer curiosity, the Javanese moray eels, which can grow up to two metres, will be drawn to you in search of a gentle stroke.
CARAVELLE (9-28m)
The upper platform of this drop-off falls away from one plateau to the other, with large rocks and schools of fusiliers frolicking alongside other species of reef fish. Large groups of platax, barracudas and big eye trevallies may be seen there very often, besides the occasional visit of a shark in search of its food amidst the corals.
LOST ANCHOR (24-30m)
Green corals reign supreme and shroud the three summits of this site. An impressive anchor, studded with corals, rests on the central elevation, just above a small cave with laces of gorgonians. During the dive, it is not uncommon to come across stonefish, scorpion fish, globefish or even lobsters.
SHIPWRECKS IN THE NORTH-WEST
EMILY ET WATERLILY (25m)
Sunk in 1981 and 1982 respectively, these two barges today shelter an abundant fauna which will delight divers. The wrecks rest on a broad sandy bottom, where the light is particularly beautiful. Surgeonfish, red crabs, shells, yellow-mouthed morays and schools of spangled emperor can all be found on this site.
STELLA MARU (17-25m)
The Stella Maru is a former Japanese fishing boat that was deliberately sunk in 1987 to create an artificial reef. Situated just opposite Trou-aux-Biches, the trawler rests on a sandy bottom and accommodates a school of blue triggerfish. Alongside these, two friendly Javanese morays, stonefish, scorpion fish, octopuses, nudibranchs, shells and quite a rich marine fauna have also found refuge amidst the wreck. A diving site to be explored time and again.