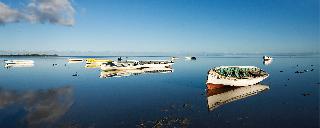 The Shandrani Beachcomber Resort & Spa has enriched its menus with an added touch of creativity and refreshed the décor of its restaurants to enhance diners' experience.
Surrounded on three sides by white sandy beaches, with views over the Blue Bay Marine Park, the Shandrani Beachcomber has progressively been raising the quality of its culinary offerings. The changes brought about can be felt both in the decor and in the menu.
"The changes that we have been working on for some time now stem from our desire to continually improve what we do, and they are much appreciated by our guests, tour operators and travel agencies. Our artisans are equally delighted," says the General Manager, Lothar Gross.
Le Sirius Restaurant, facing the Marine Park, now boasts a charming seaside atmosphere with an entirely revamped frontage – white pebbles around the outer edge of the pool, patches of white sand and pure colour tones add a note of brightness to the setting. Some cosy open-sky lounging areas with trendy furniture have also been laid out by the sea to provide guests with an atmosphere of ultimate relaxation.
The menu has also been refreshed. Table service is available for breakfast, as well as an eggs menu with eight different options. The lunch menu bursts with colour, freshness and lightness with salads, gazpacho, sandwiches, hot dishes, and some nice combinations of flavours, such as the octopus and hummus dip, along with lighter dressings. Guests will also have a taste of Mauritian delights with the daily specials.
Mauritian dishes are served for dinner at this restaurant seating up to 120 guests; these tasty dishes are prepared using local ingredients with a contemporary twist, creating a gorgeous blend of flavours. The dining experience is embellished by an elegant display and impeccable service.
The Ponte Vecchio reveals a subtle harmony between a stylish setting, an open-plan kitchen where guests can see the artisans at work and delicious food at lunch and dinner time. This 80-seat restaurant is ideally located in the heart of the hotel, with a warm and welcoming atmosphere combining whitewashed walls, woodwork and Italian trattoria-style furniture, as well as a few touches of red that add a sparkle to the place.
The menu redesigned by the Executive Chef, Olivier Belliard, offers a generous choice of Italian delicacies including antipasti, planchas, salads, meat, various fresh pasta dishes and some mouth-watering desserts, complemented with a selection of quality Italian wines.
"We wanted to offer some tasty treats to our guests in a pleasant atmosphere. We have kept the Italian flavour while giving a different twist to some dishes in order to come up with a menu that caters to all tastes and desires," says Olivier Belliard.
The main restaurant, Le Grand Port, seating 320 guests, is gradually expanding its themed buffet offering. A Lebanese buffet has been added to the existing Mauritian, Italian and Asian buffets and guests will soon be able to sample an American and a French Bistro themed buffet.
A variety of culinary delights to be shared by all at this five-star property of the Beachcomber Collection!