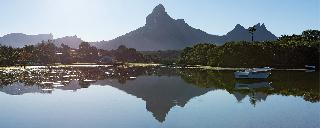 Dinarobin Beachcomber Golf Resort & Spa is hosting from 10 to 22 December 2016, the French-American journalist and film director, Diego Buñuel as part of the 'Mauritius Tomorrow – Moris Dime' project, of which Beachcomber Resorts & Hotels is a partner.
The host of the National Geographic documentary series, 'Don't Tell My Mother', also broadcasted on the French TV as 'Les Nouveaux Explorateurs', Diego is also the head of documentaries for the French TV channel, Canal+. He will explore the pride and savoir-faire of the Mauritian people together with the 'Mauritius Tomorrow – Moris Dime' team. This 'Tour of Mauritian pride' will start on the neighbouring autonomous island of Rodrigues and will take place from Thursday 15 to Saturday 17 December.
Diego Buñuel has also taken part on Monday 12 December in The Beautiful Neighbours ritual at Dinarobin Beachcomber. It was a shared moment of happiness with children from surrounding communities around a cooking experience. "I am very pleased to have taken part in this activity organised by the hotel, which promotes interaction and exchange between children from the nearby village and children staying at Dinarobin Beachcomber. It was a great moment of laughter with a big spirit of togetherness!" he said.
Mauritius Tomorrow – Moris Dime is an experience aimed at preserving and promoting the architectural, industrial and social heritage as well as the trade skills of Mauritius and passing on a sense of human pride through Art. The project will last over the 500 days leading to the 50th anniversary of the Independence of Mauritius on 12 March 2018.