Once the romantic "I dos" have been said
At Beachcomber, we are always dedicated to couples on honeymoon.
Our honeymoon package is available all year round at a discounted rate and topped off with exquisite experiences.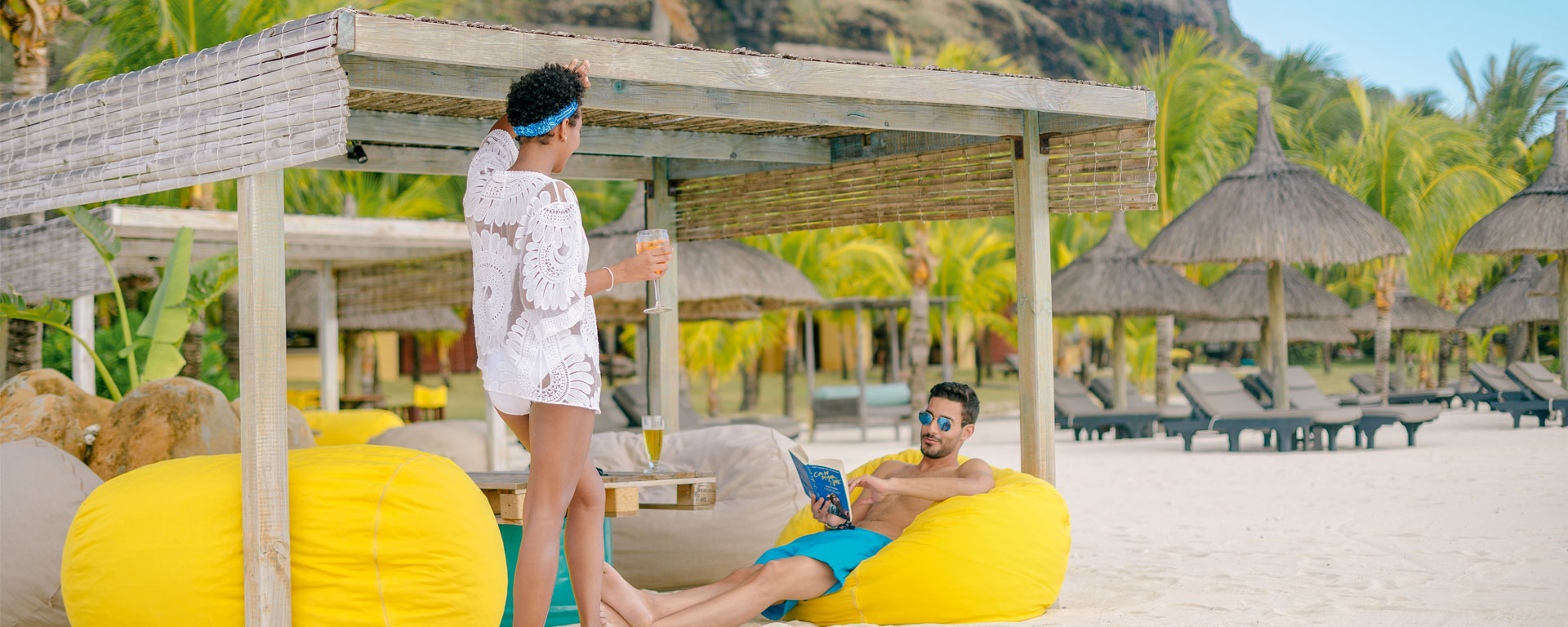 The perfect honeymoon offer by Beachcomber Hotels
After all the excitement of your wedding, just relax in the knowledge that our professional staff will do everything to make your stay extra special, starting with personalised honeymoon gifts. Your every wish, whatever it may be, will be fulfilled. Relax and enjoy this precious time together... just the two of you.
Beautiful Experiences
Around the island in a convertible fun car

Breathing the spirit of freedom

A rare feeling of freedom for the two of you or the whole family with that little spark which allows you to escape your daily routine and venture down untrodden paths. Beachcomber invites you to get behind the wheel of a charming convertible fun car for a nine-hour discovery drive around Mauritius at your own pace and liking.


Available in Royal Palm Beachcomber, Dinarobin Beachcomber, Paradis Beachcomber, Trou aux Biches Beachcomber, Shandrani Beachcomber, Canonnier Beachcomber and Mauricia Beachcomber.

Couples' massage: A sense of harmonious sharing

A hint of Zen and romance

Our treatment package that subtly combines the Art of Bath, the Affinity Arts and the Art of Holistic Touch will transport you into a world of tranquillity and bliss.

After a smoothing scrub experience – B(e) BEAUTIFUL – "Terroir des îles" with Original Natural Sugar or Timeless White Sugar, a Santa Yoga session will introduce you to the arts of movement, breathing and breathing for deep letting-go. The signature B(e) massage B(e) Discovery offers ultimate regeneration to leave you with a total Zen feeling of relaxation.

You will experience a whole new dimension to the meaning of well-being and relaxation.

Available at Royal Palm Beachcomber, Dinarobin Beachcomber, Paradis Beachcomber, Trou aux Biches Beachcomber and Shandrani Beachcomber.

Introduction to scuba diving

Enter the underwater realm

Mauritius is blessed with some of the world's most beautiful lagoons and those in the know agree that its submarine scenery is adorned with heavenly beauty. Marine world enthusiasts never tire of admiring its passes, wrecks, caves, drop-offs and canyons, as well as its abundant, unspoilt flora. You will complete your introductory dive under the supervision of a qualified instructor, who will then guide you in your quest for the hidden gems of the sea. You will receive a certificate after completing this 3-hour session.

Available at Royal Palm Beachcomber, Shandrani Beachcomber, Victoria Beachcomber, Canonnier Beachcomber and Mauricia Beachcomber.

Golf lesson at Mont Choisy Le Golf

Taking to the greens

Are you eager to learn how to hit a golf ball? Beachcomber invites you to discover Mont Choisy Le Golf, the only 18-hole international golf course in the north of Mauritius. You will be provided with all the equipment required for your introduction to this noble sport that tests your skill, strength, flexibility and precision.

Available at Royal Palm Beachcomber.

Parasailing Tour

A glimpse of Grand Baie from up in the sky

Parasailing is an exhilarating experience for thrill-seekers. Take an adrenaline-infused ride above Grand-Baie to discover the north of the island, suspended between sky and sea. Blown away by the experience, you will be delighted by the view and breathe lungfuls of fresh air during this fifteen-minute flight. An intoxicating mix of indescribable thrill and emotion.

Available at: Royal Palm Beachcomber.

Bike tour around Mahebourg

A cultural visit on wheels

Located on the south-east coast of the island, Mahebourg has retained its character and charm. The streets running in straight lines in the old part of this small village reflect its colonial past. It was named after Bertrand-François Mahé de La Bourdonnais, a French governor who has left his mark on the history of the island. Wander around the village market to soak in the local folklore. The waterfront also offers a beautiful view of the Mahebourg Bay.
The guided tour includes stops at the waterfront, in the village (temples and church), at the Rault cassava biscuit factory and at the Naval Museum.

Available at: Shandrani Beachcomber.

Speedboat outing in the Eastern lagoon

Riding the waves of history

This speedboat trip will allow you to discover the Eastern lagoon and explore the region where man first set foot on the island. Head out to Mahebourg Bay and the Grand River South East waterfall before having a fantastic time snorkelling near Ile aux Aigrettes. Enjoy a relaxed outing with music on board. Complimentary water, drinks, local beer and snacks (sandwiches and salad) will be offered.

Available at: Shandrani Beachcomber.

Candlelight dinner

A hint of romance

Couples will have an exquisite fine dining experience in the sophisticated, subdued setting of Victoria Beachcomber's Italian or beach restaurant.

Available at Victoria Beachcomber

Bless India dinner at Le Mahiya Restaurant

India is an exotic land with a myriad of colours and flavours.

Dressed up in traditional attires, you will be treated like Maharajas and Maharanis on a romantic getaway at Le Mahiya Restaurant. The distinct flavours of India will leave you feeling exhilarated by the taste experience.

You will be served a signature welcome cocktail after heading to your table. Choose between the traditional yogurt-based "Lassi" and a glass of sparkling wine to pair with the dishes specially prepared for you by our Indian chef. The atmosphere will be further enhanced by the rhythms of traditional Santur music.

Available at: Trou aux Biches Beachcomber.

Sundowner

A sense of timeless wonder

Don't forget to bring along your camera! There is nothing like taking in the sunset from the deck of a boat to round off your day in style. This magical moment when the sun seems to melt into the water inspires a sense of timeless wonder. The sky is set ablaze with streaks of orange shades, a feast for your eyes and heart. Experience a moment of peaceful, soothing bliss.

Available at: Dinarobin Beachcomber, Paradis Beachcomber, Trou aux Biches Beachcomber, Victoria Beachcomber, Canonnier Beachcomber and Mauricia Beachcomber.

Mountain hiking at Le Morne

Climbing up a legendary peak

Standing at the southwestern tip of Mauritius, Le Morne Brabant Mountain casts its shadow over Dinarobin Beachcomber. It was inscribed on the UNESCO World Heritage list on 6 July 2008 as "Le Morne Cultural Landscape".
Let your curiosity guide you on the path that winds its way up to 500 metres above sea level. During this hike, your guide will tell you the stories of maroon slaves who took refuge in caves and at the top of the mountain.
It is recommended to eat before the activity. Sportswear, a backpack, a cap, water and a windbreaker are required.

Available at: Dinarobin Beachcomber and Paradis Beachcomber.

Horseback ride around Le Morne

An equestrian and cultural experience

Take a ride through History and nature with a horseback trip around Le Morne Mountain and on the beach. Soak up the breathtaking views while cultivating yourselves.
Riders must wear pants and sports shoes. Hard hats and boots will be provided.

Available at : Dinarobin Beachcomber and Paradis Beachcomber.

4-star massage

A shared pampering break

Beachcomber has designed a dedicated treatment package for an hour of pure relaxation. Treat yourselves to a B(e) Beautiful Body and Mind smoothing scrub followed by a tailor-made "Terroir des îles" massage with a choice between Original Natural Sugar and Timeless White Sugar.

Available at: Victoria Beachcomber, Canonnier Beachcomber and Mauricia Beachcomber.

Boat trip

A taste of the jet-setter lifestyle

Jump on board for an unforgettable day on the water with complimentary lunch and drinks. Breathe in the fresh sea air as you feast on amazing views.

You will be taken directly from the hotel to the boat for a full-day cruise off the coast of Mauritius. You won't tire of gazing at the coastline fringed with white-sand beaches and filao trees, as well as at the mountain ranges that are remnants of the volcanic activity that led to the formation of the island some eight million years ago. Enjoy a relaxed atmosphere with smiling people, good music and superb weather.

The turquoise blue and emerald green water will make you feel like being part of a life-sized painting. You're in for an idyllic experience that will give you a taste of the jet-setter lifestyle.

Available at: Victoria Beachcomber, Canonnier Beachcomber and Mauricia Beachcomber.

Photoshoot

Capturing your happy moments

A complimentary photo shoot offered by Beachcomber will capture the highlights of your stay.

Live your holiday like a romantic movie in a heavenly, otherworldly setting and make every moment a treasurable memory. And you certainly wouldn't want to leave without having captured images that will remind you of these precious moments of happiness.

Available at Trou aux Biches Beachcomber

Visit to the Pamplemousses Botanical Gardens or L'Aventure du Sucre

When history meets nature

The two-and-a-half centuries-old Pamplemousses Botanical Gardens are teeming with fascinating plant life. The first of their kind in the southern hemisphere, they provide an amazing close-to-nature experience. Your guide will introduce you to countless plant species from around the world. If you prefer to dive into the island's past, the museum at L'Aventure du Sucre will help you discover and grasp the important role played by sugarcane in Mauritius over the past four centuries.

Available at Royal Palm Beachcomber

Family photo shoot

Your ultimate vacation scrapbook

Book a special photo session with a professional local photographer to capture precious moments of your family vacation – whether against the backdrop of a white sandy beach or a golden sunset. Plenty of happy memories to take home from your holiday in Mauritius.

Available at Royal Palm Beachcomber, Trou aux Biches Beachcomber, Victoria Beachcomber, Canonnier Beachcomber and Mauricia Beachcomber.

Family tennis lesson

Plenty of fun for everyone!

Treat yourselves to a full hour of family bonding while improving your tennis game. This combination of outdoor sport and fun is a great opportunity for players of all ages to practise their serve, forehand, backhand and volley on one of our sun-drenched courts.

Available at Royal Palm Beachcomber

Family cooking class

Delightful gourmet moments

Indulge in a gourmet family experience with new flavours of your own. Under the guidance of our experienced and passionate chefs, Mum, Dad and kids will love to join hands for one hour to cook up some exotic fare. Give free rein to your culinary talent and take home some tasty recipes to make and enjoy.

Available at Dinarobin Beachcomber, Trou aux Biches Beachcomber, Canonnier Beachcomber and Mauricia Beachcomber.

Painting workshop

Jump-start your family's creativity

Unleash your artistic side and get creative with your family. Our painting workshop is a friendly space for children, adults and teenagers to develop their creativity. Children and adults will have a shared experience of art in a playful manner.

Available at Trou aux Biches Beachcomber

Family tennis lesson or fitness session or mountain hike at Le Morne

First steps in tennis

Treat your kids to their first tennis experience and liven up your family vacation. They will learn to hit the ball in a fun and friendly atmosphere. A package of three 30-minute group lessons, including training with a suitable sparring partner, rackets and balls is also available for children aged 5 to 13 years old to hone their technique.

Maintaining good health
Our personalised fitness programme under the guidance of our experienced coaches will help your children aged 7 to 13 years old preserve their health capital. A package of three 35-minute group lessons is available with fun activities like power walking, jogging, aqua-gym and outdoor stretching.

Discovering nature
Reap the health benefits of a fun activity while enjoying the island's wealth of natural and historical heritage. Young hikers from 7 to 17 years old will have a lovely time climbing the iconic Le Morne Brabant Mountain. This fairly easy hike will take them to 200m above sea level, with a splendid view extending beyond Le Morne Peninsula and the Indian Ocean towards the horizon.

Available at Dinarobin Beachcomber

Dolphin encounter or fishing trip

Encounter with dolphins

Having the privilege of meeting with dolphins in their natural habitat is a magical experience for all ages. You will leave early in the morning for an incredible adventure in the warm tropical waters of Mauritius. A fantastic chance to get up close to these friendly marine mammals living off our coasts, watch them leap out of the water, play and swim along your boat.

Bring out the angler in you
Spend a special afternoon of fishing with your family in the warm lagoon of Mauritius. A safe two-hour outing on a boat manned by a professional crew, this group fishing trip is suitable for all angling abilities.

Available at Paradis Beachcomber

Family beach dinner

Dining by the water

Treat your loved ones to a delicious family dinner in a scenic tropical beach setting. Just you, fantastic food, sand, sea and stars for a perfect family evening!

Available at Paradis Beachcomber and Mauricia Beachcomber

Family golf session

Your perfect family golf break

Develop and share your common passion for golf on one of the most stunning courses in Mauritius. An excellent place for beginners to discover and get introduced to the sport as well as for seasoned players to improve their skills. Get ready for an outstanding family golf experience!

Available at Paradis Beachcomber and Canonnier Beachcomber.

Guided tour of Ile aux Aigrettes

Delve into the island's natural history

It only takes a short boat trip to reach Ile aux Aigrettes, a sanctuary of endemic fauna and flora off the south-east coast of Mauritius. A half-day guided visit of this precious nature preserve will take you back in time, enabling you to share a pleasant family moment while catching a glimpse of the ecosystem in its original state.

Available at Shandrani Beachcomber

Tour of Mahebourg by car

Through the alleyways of history

You will love the freedom and comfort of exploring the streets and alleyways of Mahebourg in a private car. Spend your Friday morning visiting the neighbourhoods of this historic village with a rich maritime heritage and full of local scents and colours.

Available at Shandrani Beachcomber

Complimentary 5-hour babysitting service

The art of taking care

Take your children on holiday with you knowing that you will still be able to take some time for yourself. We offer you five hours of babysitting services to allow you do grown-up things like having a romantic dinner while feeling confident that your kids are in safe hands. This will also make the time spent with them even more meaningful.

Available at Shandrani Beachcomber and Victoria Beachcomber.

Around the island in a convertible fun car

Breathing the spirit of freedom

A rare feeling of freedom for the whole family with that little spark which allows you to escape your daily routine and venture down untrodden paths. Beachcomber invites you to get behind the wheel of a charming convertible fun car for a nine-hour discovery drive around Mauritius at your own pace and liking.

Available at Victoria Beachcomber

Yoga or massage experience

Family spa indulgence

The Art of Wellness offers families a unique one-hour pampering session designed for all ages. Children will enjoy a combination of yoga postures and routines with a vanilla massage to remove tiredness from their active limbs. The session lasts about half an hour per child. Parents can take a 15-minute steam bath followed by a half-hour neck and upper back massage with hot stones and blended oils for muscle relaxation. Duo treatment rooms are also available for father-son and mother-daughter sessions.

Children from 6 years old have access to the spa from 11am to 3pm. Access to the steam bath is allowed from the age of 15.

Parent-child bonding

The Art of Wellness spa experiences include a one-hour family yoga session, which gives children the opportunity to develop their focus and concentration with their parents. Individual 30- to 40-minute treatments will also allow mums and their little princesses to enjoy a coconut-almond body scrub and vanilla body hydration, a face mask and an express nail fix for both. Dads and their little champions will also indulge in a natural sugar body scrub, a vanilla body hydration and a foot or head massage.

Children from 6 years old have access to the spa from 11am to 3pm. Access to the steam bath is allowed from the age of 15.

Available at Dinarobin Beachcomber