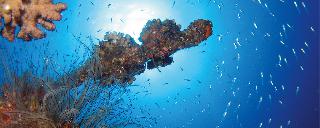 Centro de inmersión
Dinarobin Beachcomber Golf Resort & Spa
Guests staying at Dinarobin Beachcomber can take advantage of the services proposed by the diving school of the sister hotel Paradis Beachcomber.
Located in the south-west of the island, at the heart of the 5-star Paradis Beachcomber Golf Resort & Spa, this diving school offers some of the most renowned dives of Mauritius in crystalline waters. For any certified diver, diving at St Jacques pass will be an unforgettable experience, as rays and sharks can quite certainly be expected there.
Los mejores sitios de buceo
LOS MEJORES SITIOS DE BUCEO, ZONA C
ACUARIO de Flic-en-Flac (9-20m)
El sitio está ubicado en un arrecife de coral entrecortado por bancos de arena. Entre 9 y 20 metros, este sitio es accesible para todos. Muy rico en fauna tropical, ustedes se sumergirán en medio de bancos de peces carangidae, u otros peces mula ... Entre los corales descubrirán meros, morenas y peces león. Una inmersión excelente para principiantes.
HOI SIONG (16-28m)
Nuestro "nuevo" pecio es un barco de unos treinta metros de largo. Fue hundido en febrero de 2003 con el fin de crear un arrecife artificial. Los restos del naufragio del Hoi Siong ya están colonizados por una multitud de peces. Aquí se pueden observar depredadores, como los peces carángidos y los atunes, persiguiendo a miles de pequeños peces.
LA GORGONIA (14-35m)
Gorgonia gigante de más de 3 metros de diámetro, en una pared de 20 metros. A menudo los carángidos azules, curiosos, acompañan a los buceadores.
Baía del Cap - Sud
ST JACQUES (16-32m)
Preciosa inmersión en uno de los más bellos parajes de Mauricio. A menudo se ven rayas águila, tiburones, bancos de carángidos y de atunes. Pero este lugar es famoso sobre todo por sus (muy raras) langostas gigantes.
WHITE TIP (18-32m)
¡Nuestra inmersión con tiburones! Como el sitio de St Jacques, White Tip se encuentra en la costa sur de Isla Mauricio, que tiene la ventaja de estar todavía intacta. Por lo tanto, el lugar está lleno de vida: tiburones de puntas blancas, barracudas, carángidos, meros, gallinetas nórdicas, morenas ...