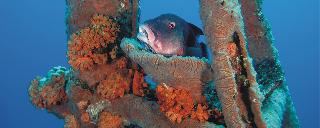 Centro de inmersión
Shandrani Beachcomber Resort & Spa
Esta escuela de buceo situada al sureste de la isla en el corazón del SHANDRANI BEACHCOMBER RESORT & SPA, da directamente al parque marino de Blue Bay. Los bautismos de inmersión así como los cursos de formación de niveles se llevan a cabo en este entorno muy protegido. Para los más experimentados y dependiendo de las condiciones climáticas, el Colorado y la Roca Zozo les transportarán a un mundo mágico.
Los mejores sitios de buceo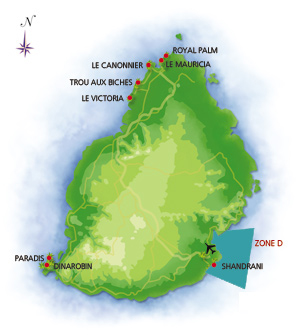 THE BEST DIVING SITES OF ZONE D
COLORADO (20-40m)
Esta inmersión se realiza a lo largo de un talud que se transforma a lo largo de la inmersión en un cañón y luego en un anfiteatro con una chimenea o también en un largo túnel lleno de langostas. La vista es magnífica: gorgonias y coral rosa adornan las bóvedas, peces loro, peces cirujano y otros peces naso se esconden a menudo entre las altas paredes de piedra. El paso de grandes depredadores como el pez wahoo, el atún, o la barracuda es frecuente. Inmersión espectacular.
LA CUEVA DE LAS LANGOSTAS (18-25m)
Una fauna rica y colorida, un fondo de grandes rocas esparcidas aquí y allí, cubiertas de corales, esponjas y otros corales blandos. En el centro, una profunda cueva habitada por una colonia de langostas. Un poco más profundo se encuentra un túnel bastante amplio. Inmersión relajante por excelencia.
ROCA ZOZO (18-40m y más)
Cadena de picos rocosos, cañones, túneles, cuevas ... Todo ello coronado por coral rosa y gorgonias. La inmersión es más interesante por el sitio que por la fauna. A menudo se ven tortugas y tiburones pequeños. El paseo es muy agradable, pero la corriente apela a la precaución. Uno se deja cautivar rápidamente por la belleza del lugar, por lo que hay que vigilar el medidor de profundidad.
El SIRIUS (18-22m)
Bucear en este barco naufragado de pasado glorioso es un placer. La parte principal de la carcasa yace sobre 18m de fondo. 19 cañones intercalados, un armazón de madera de roble, remaches y otras bolas ofrecen un espectáculo único. A veces, bajo el agua, nos imaginamos que estamos 196 años oliendo el olor de la pólvora y las llamas que salen de la boca de los humeantes cañones. Más al norte, la parte trasera de la nave tiene 24 m de profundidad. El ascenso se realiza a lo largo de un relieve colonizado por una gran diversidad de corales con escalón de 3 metros. La visibilidad no es sin embargo muy buena porque los restos del naufragio se encuentran en la desembocadura de un río.