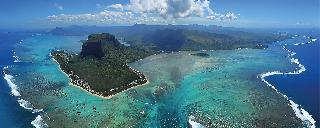 Basking in timeless elegance, La Goélette Restaurant has refreshed its creative and refined menu with new tastes and colours. Every evening, guests are treated to a truly sophisticated dining experience with gourmet creations served on a large terrace overlooking the sea.
Recent additions to the menu of the Royal Palm Hotel's main restaurant include the mouth-watering Chicken oyster Caesar salad with truffles, a true feast for the taste buds. The Steamed artichokes served warm and seafood with kaffir lime is a dish as exciting to the eye as it is to the diner's palate. And one just can't resist the taste of the steamed coryphène fish with spices and fresh pasta rolls stuffed with vegetables.
Guests can select their own wine to pair with their dish from La Goélette's sleek walk-in wine cellar or leave the choice to the professional staff. And the Chef's own variation of the Tarte Tatin with Queen Victoria pineapple and licorice will provide a sweet conclusion to the meal.
This symphony of flavours is enhanced by the restaurant's unique sense of sophistication, flawless service as well as the talent and inventiveness that Michel de Mattéis pours into the cuisine of the hotel.