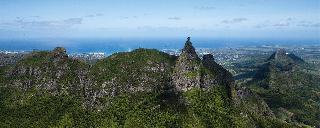 Beachcomber French Riviera: The Verrazano Open enjoys a successful premiere
Beachcomber French Riviera has hosted the players who took part in the Verrazzano Open, the Mouratoglou Tennis Academy's first ATP Challenger tournament held from 3 to 9 April 2017.
The Slovenian-born British tennis player, Aljaz Bedene capped a perfect week by winning this maiden edition of the Verrazzano Open against the Frenchman, Benoit Paire. In the doubles tournament, Tristan Lamasine from France and the Croatian, Franko Skugor clinched the title against the Belarus, Uladzimir Ignatik and the Slovak, Jozef Kovalik.
The Verrazzano Open is an ideal stop on the road of Roland Garros and a launch pad for the world's most promising tennis players. This tournament offering a total prize money of USD75,000 and 90 ATP points for the winner, has attracted 32 singles and 16 doubles players carrying an ATP ranking between 50 and 150, with a few top players and the best future tennis champions.

Benoit Paire
For a whole week, players have enjoyed the facilities available at Beachcomber French Riviera, a 155-room, 4-star property nestled between Nice and Cannes, including its famous tennis racket-shaped swimming pool. Along with the Mouratoglou Tennis Academy, a leading tennis academy in Europe, the hotel forms part of the Mouratoglou Resort, an outstanding complex set on a 13-hectare estate. Players also had access to the Academy's medical centre offering a cryotherapy service, cold baths, hammam, gym, etc.
The tournament drew some 10 000 visitors over the week and displayed one of the best fields for an ATP Challenger circuit event. High-end services including private boxes, a VIP stand, a Premium Partner section and a village for the general public were also available.
This year's edition was an exceptional week of tennis and the 2018 edition promises to be an even bigger spectacle!