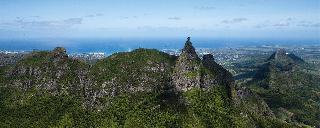 The Tourigolf association is hosting its 20th golf tournament at Paradis Beachcomber since the 22nd May 2017. This annual event hosts some 200 participants, mainly French professionals from the Tourism industry (Travel Agencies, Tour operators, Airline or maritime companies, Hotels, Restaurants), who have come to test their skills in the heavenly setting of Le Morne peninsula.

Four teams are competing this year: Amadeus, Corsair, Enterprise and Groupama, each of whom will aim for victory in the seven day tournament.
The event kicks off on Monday, May 22nd at a cocktail bringing together all the participants at the Paradis Beachcomber golf course Club House, in the presence of the president of Tourigolf, Boris Reibenberg.

For this 2017 edition, the Pros who wish to hone their technique are able to rely on the advice of Jean-François Remey, two-time champion of the Open de France, one of the most important tournaments on the European Tour. And as is now the yearly tradition, it is the 'Coupe de l'Amitié Air Mauritius' which will mark the end of the tournament, and bring together all the players and management of Beachcomber Resorts & Hotels.

Mario Desvaux, Golf Manager of Paradis Beachcomber, believes that Beachcomber, Paradis hotel and its golf course should be proud that professionals of the French travel industry have placed their trust in the group for 20 years. "These professionals can choose from any of the world's hotel destinations that have a golf course, because they market practically all of them! 20 years ago, there were around ten of us in this competition. Originally, the organisers wanted to create a friendly environment which still allowed time for professional networking. Thus was developed the idea of playing on an 18-hole course followed by a creatively planned and dynamic 19th hole", he says.
Mario Desvaux, Golf Manager of Paradis Beachcomber and Jean François Remesy, twice champion of the French Open
"Mauritius has only just started its adventure as a 'Golf Destination' but we are rapidly progressing and currently already have nine high-level golf courses that offer 5-star service. We are also gaining popularity through our 'Environment-friendly and sustainable' golf products. It is a true asset in order to increase the number of golfing tourists in Mauritius", he adds.
Tourigolf
The Tourigolf association groups professionals from across the spectrum of the Tourism industry (travel agents, airline and maritime companies, tour operators, official bodies and tourist offices, car rental firms, insurance companies, etc.) around their shared passion for golf. Chaired by Boris Reibenberg, president of the 'Présence Assistance Tourisme' group and great friend of Mauritius, the association has over 200 members. It should be noted that Tourigolf is also actively involved in giving back to society in Mauritius. In 2013 and 2014, the association financed an introductory computer studies course for the youth of La Gaulette village, through the 'Fondation Espoir Développement Beachcomber (FED)'.

Paradis Beachcomber golf course, simply exceptional
Paradis Beachcomber has an exceptional golf course, one of the very few which have been designed within a resort in Mauritius. The 18-hole, Par 72 golf course extends over 5,924 metres, between Le Morne Mountain and the crystalline lagoon.