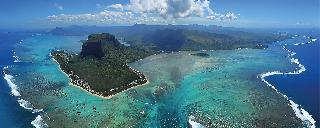 As part of our wellness philosophy, Beachcomber hotels are dedicated to provide their guests with the sense of deep well-being and lasting restoration they are longing for through a new spa concept: "The Art of Wellness". This comprehensive program of treatments and experiences has been carefully designed to meet the needs and preferences of today's clientele in an optimal way. In this new perspective, "The Art of wellness" has drawn on the finest resources to create an exclusive and unique product range.
Nature at the heart of our concept
At Beachcomber, we strongly believe in Nature as the most powerful source of wellness. Exclusively created for our spas, the B(e) Beautiful line draws inspiration from ancestral wisdom and all-time beauty secrets, where Nature holds the first place. Our products are crafted to deliver the purest benefits of nature's gifts. Our raw ingredients are sourced from the vegetal world and our formulas are expertly developed in laboratory to preserve the active principles that are essential for skin, body and mind regeneration.
A cosmetic revolution
Our production techniques radically break with the codes of mainstream chemical-based cosmetics and come close to home-style beauty care, with the natural properties of unrefined ingredients being retained. What further distinguishes our brand is that the B(e) Beautiful products are specifically formulated for both the face and the body and to suit all skin types. As such, they conform to the time-honoured principles of holism and alternation applied to wellness therapy: the body is flooded with a full scope of nutrients and it absorbs only what it needs to repair and rebalance.
Ultimate pleasure for the senses
Mauritius' rich natural heritage is at the very heart of our product line. Sugar, coconut and honey, among other tropical treats, are combined to ingredients of universal benefits, such as herbal oils, shea butter and bee wax, to create a delightful experience infused with Mauritian flavours. The harmonious and refreshing textures beautifully meld with exquisite scents of vanilla, caramel or wild violet, holding the promise of an exotic sensory journey. In addition to their naturally nourishing and soothing properties, our products are meant to delight and revive the skin, the body and the soul.