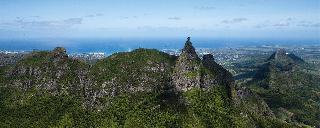 Exploring amazing dive sites of Mauritius becomes an exclusive experience with Beachcomber Resorts & Hotels.
The clear, warm waters around Mauritius are a year-round divers' paradise and boasts a wealth of sites with different topography and a dazzling array of marine life to choose from within a relatively short distance from the shore.
From north to south, each dive is different and the sites with varying depths each have their own unique features. Evocative names such as La Roche Baleine (26-38m), Merville Patches (13m), Le Mur (26m), L'Aquarium de Grand Baie (14m), Stenopus (38-40m), Holt Rock (16-25m), Caravelle (9-28m), Ancre Perdue (24-30m), Emily and Waterlily (25m), Stella Maru (17-25m), L'Aquarium de Flic en Flac (9-20m), Hoi Siong (16-28m), La Gorgone (14-35m), St Jacques (16-32m), White Tip (18-32m), Colorado (20-40m), La Grotte aux Langoustes (18-25m), Roche Zozo (18-40m+) and Le Sirius (18-22 m) are just a foretaste of what's to come.
Scuba diving is synonymous with exclusivity and bespoke experiences in Beachcomber hotels, where the beauty of places combines with the good-heartedness of artisans. Dive centres are available in each hotel and teams of seasoned professionals offer personalised attention to each guest. Dives are organised in small groups and the best sites around the island are within a short 20-minute boat ride, which contributes to making each experience unique and memorable.
During their stay, underwater enthusiasts will have the opportunity to discover the treasures hidden under the sea, from the barrier reef through to the passes, outer reef, drop-offs and shipwrecks. Beginners and experienced divers alike also have access to training endorsed by internationally recognized organisations such as CMAS and PADI. From trial dives in a pool to venturing out into the unspoilt natural beauty of the lagoon teeming with colourful tropical fish and other marine species.
The Beachcomber dive centres are known for their high quality of service. The facilities available at Victoria Beachcomber Resorts & Spa were indeed among the nominees of the prestigious 2016 World Travel Awards. These centres are also concerned with the protection of the environment. Their boats refrain from dropping anchor at dive sites and the outings take place in small groups, which lends an even more exclusive character to the dives.
In addition, Victoria Beachcomber's dive centre is the first facility of its kind in Mauritius to receive the Green Star Award from PADI, the world's leading scuba diving training organisation. This distinction recognizes the centre's commitment to environmentally responsible business practices and the preservation of underwater habitats.
The special treats offered by the Beachcomber dive centres include night dives and introductory scuba diving courses for children from the age of 10 years provided by qualified instructors, which makes this activity even more family-friendly.
Diving the Beachcomber way is a truly unmissable experience!