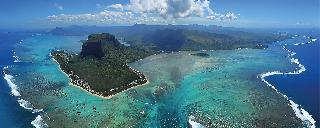 The recent winner of the Tshwane Open, the South African Dean Burmester has been named official ambassador to Beachcomber Resorts & Hotels and Mont Choisy Le Golf.
"I am really excited to start a relationship with such a lovely destination and facilities as Beachcomber and Mont Choisy Le Golf. I've always loved coming to Mauritius and to be partnered with one of the best resort groups and this new golf course on the island is awesome. I am really looking forward to working with them and promoting the resorts," said the 28-year-old, who is one of the biggest hitters around.
Passion for sport runs in the family for Burmester. His father Mark played international cricket for Zimbabwe while his mother Michelle is a talented golfer who holds the women's course record at the Royal Harare Golf Club.
After winning for the first time as a professional in 2013 at the Polokwane Classic, Dean has added five more Sunshine Tour titles to his trophy cabinet before triumphing in his home country in March at the Tshwane Open, a tournament co-sanctioned by the Sunshine Tour and the European Tour.
The South African player will sport the Beachcomber Resorts & Hotels and Mont Choisy Le Golf on his tour bag and the newest and only 18-hole golf course in the North of Mauritius opening in November 2017, will be his home course for the next two years. Guests staying at Beachcomber golf resorts enjoy privileged access to this par 72 championship course crafted by the renowned South African golf architect, Peter Matkovich.
The country's leading hotel brand, Beachcomber Resorts & Hotels operates an amazing collection of four dedicated golf resorts. Paradis Beachcomber Golf Resort & Spa, Dinarobin Beachcomber Golf Resort & Spa, Trou aux Biches Beachcomber Golf Resort & Spa and Canonnier Beachcomber Golf Resort & Spa offer a broad spectrum of experiences to enable the discerning golf travellers to live out their passion in the most enchanting of settings.