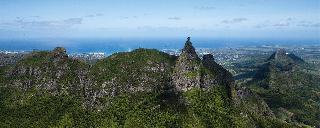 Paradis Beachcomber Golf Resort & Spa hosted the second edition of the National Sport for Good Summit from August 1st to September 1st. A first in Mauritius, this event was organised as part of Sport for Good Foundation of Laureus Association South Africa. Laureus comprises the Laureus World Sports Academy, the Laureus Sport for Good Foundation and the Laureus World Sports Awards, which collectively harness the power of sport to promote social change and celebrate sporting excellence.
Morne du Plessis

The organisation indeed brings together the world's living sports legends in diverse fields: football, cricket, tennis, athletics, skateboard and car racing. Through their charisma and the financial assistance from various partners, these athletes advocate for social change. Active members of Laureus include Edwin Moses (400 m Olympic Champion in 1976 and 1984), Tanni Grey-Thompson (Paralympic Champion in athletics) and Czech tennis champion Martina Navratilova. All the members of Laureus firmly believe that sports can change lives.
Since its foundation seventeen years ago, Laureus has raised over EUR 85 million - allowing three million young people to benefit from no less than 150 projects throughout the world. In Mauritius, Laureus supports Hope House, a non-governmental organisation which through social engagement, aims to give vulnerable individuals access to their basic needs.
The second National Sport for Good Summit brought together several stakeholders of the Laureus programme – ambassadors, Chiefs of Mission and others – to showcase the various programmes of Laureus. The highlight of the conference was the presence of some ten ambassadors of Laureus, and among them: long distance specialist and 1992 Olympic Games gold medallist, Sean Fitzpatrick, former All Blacks captain and Ryk Neethling, South African swimmer and gold medallist in the 4 x 100 meters relay at the 2004 Olympic Games.
For Morne du Plessis, Chairman of Laureus Sport for Good Foundation, South Africa and legendary coach of the Springbok in 1995, this forum was an opportunity for the participants to look into best practices which can help the most vulnerable through sports. "The first summit was held in Johannesburg and this year we wanted to gather all our project leaders, ambassadors and trustees, to give them the opportunity to exchange ideas in order to strive for best practices and improve the impact of their particular projects.", he affirmed.
During his speech at the opening of the conference, Morne du Plessis thanked Beachcomber for its support to Laureus as an event partner.
"I'd like to thank Beachcomber, Event Partner and host for the Laureus Sport for Good South Africa Summit, who have provided us with the opportunity to be able to put on an event of this nature for our delegates. Beachcomber has a rich tradition of supporting sport in Mauritius, as well as a Foundation that focuses on community upliftment, complementing our Sport for Good movement. Their passion and professionalism in supporting this event is greatly appreciated and we look forward to a healthy partnership benefiting both the Laureus Foundation and Beachcomber." he stated.