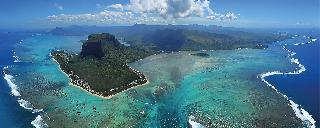 Sitting at a table on one of the best beaches in the north of Mauritius and surrounded by torches underneath a starlit sky, guests at Royal Palm Beachcomber Luxury can enjoy a superb grill dinner menu prepared by Chef Michel de Mattéis every Thursday evening.
The Royal Grill has become a favourite among regular guests and first-timers alike at this legendary grand hotel. The evening has a special flavour and is a great opportunity for couples, families or groups of friends to share a pleasant moment in a chic yet informal atmosphere around a delicious meal in a truly magical setting. The menu varies depending on the season and is an invitation to enjoy some luscious and juicy grilled specialities. Homemade smoked fish, an ample choice of salads and mixed vegetables, a cold turmeric zucchini soup, a tabbouleh with fresh mint and calamari snacks with a touch of turmeric provide an appetizing introduction. These are followed by the catch of the day, freshwater Camaron shrimps, chicken satay skewers, Angus rib steaks, lamb chops and chicken 'Kalia', all served with white rice, a vegetable fricassee with lemon and a tasty choice of sauces and dressings.
For a sweet conclusion to this unique culinary experience, there is a selection of desserts for the true gourmands, from fruit skewers with vanilla glaze to the mango and coconut fondant and the pineapple and lime verrine with a lychee emulsion.
Epicures, young and old, will enjoy the delicate flavours as well as the warm and convivial atmosphere of the Royal Grill!