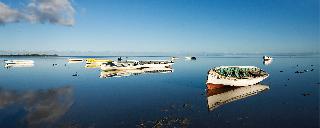 Since September 14th, the Royal Palm Beachcomber Luxury has welcomed a new artisan : Julien Laugier has joined the F&B team as the new Head Sommelier.
With 10 years in wine waiting and 15 years in the hospitality sector, Julien boasts an impressive track record of collaborations with prestigious restaurants and hotels. "First, I was interested in cookery, but I eventually turned to wine waiting and learned the art of wine pairing," he explains.
A native of the Luberon, the capital of candied fruit in the south-east of France, Julien earned his first stripes in the kitchen of the "Auberge du Luberon" in 2001, before integrating Paul Leaunard's iconic restaurant, "La Côte de Bœuf". When he later discovered the art of wine tasting and savouring, he decided to expand his knowledge and trained as a sommelier. Between 2007 and 2010, he further developed his skills as a trainee, commis wine waiter, cellarman and sommelier trainer at the "Maison Pic", then gathered international experience at the Ritz Carlton in China, Dubai and the Maldives.
As a member of the Union des Sommeliers de France, Julien was appointed Principal Advisor and Senior Teacher for the Diplôme Consulaire Supérieure en Sommellerie, a graduate degree course in Sommellerie in the French town of Avignon, between 2014 and 2017.
At only 30, Julien becomes the new Head Sommelier of the Royal Palm. His primary mission will be to create and renew the hotel's wine list. "We want to create a versatile wine list, bring in some new features, work on the harmony of flavours and offer guests an experience tailored to their preferences," he ensures.
For his first professional encounter in Mauritius, Julien is delighted to be an artisan of the Royal Palm. He is looking forward to sharing his passion for wines with the rest of the team.