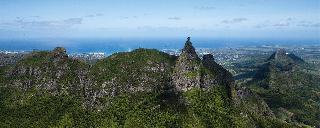 On November 17, Paradis Beachcomber embarked its guests on a wine tasting journey. Guests were convened to a cocktail reception in one of the villas of the resort, where they had the exclusive opportunity to discover the « Château Paradis ». Paradis Beachcomber and the estate of Château Paradis, Coteaux d'Aix en Provence in southern France, joined hands to the delight of wine amateurs. The event rhymed with conviviality and shared aromas.
The idea of a partnership with the Château Paradis started during a food and wine gastronomic fair in Singapore which was attended by a team of Paradis Beachcomber.
« When the delegation from the hotel discovered Château Paradis, they were immediately conquered. The wines from this estate are made from the best vines and are meticulously crafted. Not only is it a good wine but it also alludes to the association between Paradis and Château Paradis in a beautiful way. So much so, that we decided to make it our house wine. » explains Stephane Sogliuzzo, Hotel Manager of Paradis Beachcomber.
The aim of this partnership is to propose a palette of terroir wine, colours, textures and aromas to the guests of the hotel.
During the launch, Marie-Astrid Thomassin, Commercial Director of the estate, presented a selection of wine white, rosé and red --- from the Premium collection « Terres des Anges ». The artisans made the palatal experience even more memorable with an exceptional menu featuring a crab and mango compression, mushroom risotto and truffle toasts.
Marie-Astrid Thomassin also led a series of workshops on vineyards, vines and wine. She shared her expertise with more than sixty artisans from Paradis Beachcomber and Dinarobin Beachcomber.