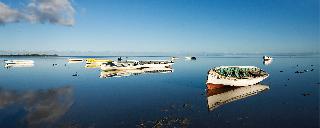 Paradis Beachcomber Golf Resort & Spa and Dinarobin Beachcomber Golf Resort & Spa now provide their guests with water that is filtered and bottled on their premises in continuation of their commitment to society and the environment.
Situated on Le Morne Peninsula in the south-west of Mauritius, Paradis Beachcomber has started bottling its own still and sparkling water since 1st December 2017. The initiative has also been rolled out since 3rd January 2018 at the sister resort, Dinarobin Beachcomber.
This invaluable resource is filtered and bottled in a plant set up in the backyard of Paradis Beachcomber by a specialist service provider, Poseidon Water. The water bottling plant employing three artisans operates six days a week, with a production capacity of some 2,500 litres per day.
The resorts' guests can enjoy safe, great tasting water through a premium quality filtration system. To ensure quality of the water, physico-chemical tests are carried out every week.
Reusable glass bottles cleaned in a specifically designed washing unit are also used. In addition to environmentally responsible production and distribution practices, the initiative increases cost-effectiveness by saving on storage and transport.
The water produced by Paradis Beachcomber and Dinarobin Beachcomber is already available in their restaurants and villas, and will also be placed in rooms in the near future. Furthermore, guests who opt for water bottled on the resorts' grounds will contribute to fulfilling Beachcomber Resorts & Hotels' commitment to the environment.