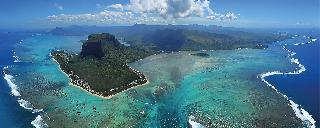 Eight Beachcomber Resorts & Hotels' properties in Mauritius have received Booking.com's Guest Review Award 2017 for their commitment to exceptional hospitality.
Royal Palm Beachcomber Luxury, Dinarobin Beachcomber Golf Resort & Spa and Victoria Beachcomber Resort & Spa have improved their score from last year at the Guest Review Awards. This accolade from the world's leading online accommodation provider celebrates properties that have offered excellent guest experiences.
According to Booking.com's Global Director Partner Services, Peter Verhoeven, "To maintain such a high review score is an extraordinary accomplishment, and one you should be very proud of. We're certainly very pleased to call you our Partner."
The Guest Review Award score is based on all reviews published on Booking.com's website during the 24 months preceding 1st November 2017.The overall scores are a combination of several review factors including cleanliness, comfort, location, facilities, staff and value for money.
Properties must have achieved an average review score of 8.0 or higher to be recognised with a Guest Review Award. Rankings were determined based on over 140 million reviews, which are all real experiences shared by real customers. For this sixth edition, 549,937 properties in 218 countries and territories have received an award.
Beachcomber Resorts & Hotels is proud of its hotels' and Artisans' achievement and look forward to exceeding the scores in 2018!
The review scores for each Beachcomber property are as follows:
Royal Palm Beachcomber Luxury – 9.4
Dinarobin Beachcomber – 9
Paradis Beachcomber – 8.9
Trou aux Biches Villas Beachcomber – 9
Trou aux Biches Beachcomber – 8.8
Shandrani Beachcomber – 8.6
Victoria Beachcomber – 9
Canonnier Beachcomber – 8.1
Mauricia Beachcomber – 8.3