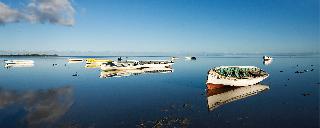 The key to successful family holidays is keeping the young entertained. This is why Beachcomber has spared no effort to ensure kids have access to tailor-made facilities and activities during their holidays in Mauritius. In this line of thought, all Beachcomber hotels feature free kids clubs, reserved for guests aged 3 to 12.
The opening hours are quite extensive - from 8 a.m. to 10 p.m. – allowing for flexibility should the parents wish to leave their kids for a few hours, an entire day or a romantic evening. They can relax in total peace of mind, knowing that their children are in the capable hands of a welcoming and caring staff.

A world of wonders

Whether it be a former eighteenth-century lighthouse, a traditional Mauritian beach house tucked in tropical greenery or edging onto the beach, Beachcomber hotels have gone to great lengths to create a home away from home for their young guests. Whichever Beachcomber resort you choose, the emphasis is always on comfort, safety and conviviality.

Tailor-made facilities for kids

Kids club have been specifically designed with children in mind. No details are overlooked even up to the tiny toilets featured in the bathrooms for kids' convenience.
All furniture is tailor-made and features fun designs and colours without compromising on comfort and safety.
Depending on the hotel you choose, the kids club may be furnished with mini rattan armchairs, miniature loungers to relax in style, small tables and chairs and even vintage writing desks.
All Beachcomber kids clubs open onto private gardens fenced for enhanced security. Most are equipped with a range of outdoor games catering for all tastes and interests including outdoor playhouses, bouncing castles, seesaws, swings and jungle gyms. At Paradis' kids club, a range of small bicycles and cars are available for children's enjoyment. There is also a miniature cricket field for older kids!

For children's comfort, some kids clubs have their own restaurant. This is the case at Paradis and Trou aux Biches. Other hotels like Le Canonnier and Le Victoria have created a dedicated children's corner within their main restaurants.

Royal Palm and Trou aux Biches both pride themselves on a private pool surrounded by smooth wooden decking, ideal for safe splashing or to cool off on warm days. Paradis also has a shallow pool located next to the main pool in the public areas.

Inventive decors and prime locations take centre stage at Dinarobin and Le Canonnier. At Dinarobin, the kids club signature style is characterized by a large wooden terrace set beneath a spreading badamier tree and a two-storey playhouse which overlooks the beach and sea.
Le Canonnier's kids club is probably the most original in Mauritius thanks to its unique design! Housed into an authentic lighthouse dating back from the 18thcentury located right next to an ancient gun powder magazine, it provides the perfect setting to spark children's fertile imagination.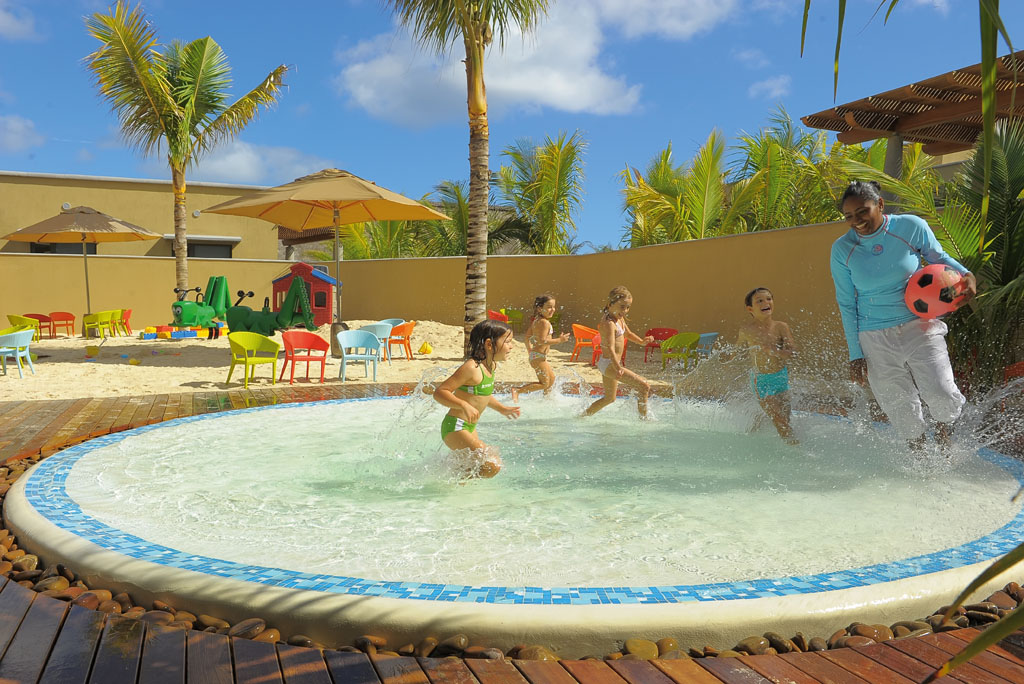 ​
Original activities

Each day is a new adventure at the kids clubs. With a range of activities as varied as kids' moods, there is always something to do. The budding adventurers will enjoy treasure hunts in the hotels' extensive gardens. Nature lovers will find great joy in little pleasures such as observing tiny crabs scampering across the sand, building sandcastles or collecting seashells on the beach.

From dancing to singing, many traditional activities create enormous appeal with kids. Hide and seek, face painting, storytelling, fancy dress sessions, live children's plays and art workshops count among those.

Children are regularly encouraged to give way to their imagination through drawing, painting, collage and other do-it-yourself crafts. During their stay, they are also introduced to the local culture and its many facets whether it be via the art of henna hand painting, the learning of traditional dances or practicing Creole, the local dialect.


Some activities take place within specific hotels only. Royal Palm for instance is famous for its cooking classes for children. They learn the basics of cake-baking with a professional and even get to wear the traditional Chef's white hat and apron. At Paradis, Dinarobin and Shandrani, three hotels offering a direct access to a golf course, kids can learn the basics of golf. At Trou aux Biches and Le Victoria, kids will venture out of the hotel to visit the aquarium at Pointe aux Piments located close to both hotels.
Boys and girls will feel like modern-days Robin Hoods at Le Canonnier when they will be taught to use a bow and arrow during their archery class. At Le Mauricia, a smooth boat ride inshore aboard a glass-bottom boat will allow them to explore the underwater world in complete safety.
Nature is the focus of most activities at Sainte Anne. The many trekking paths that spread across the hotel's grounds are ideal to unveil nature's secrets and mysteries, such as the famous cocos de mer palms.
Last but not least, whichever Beachcomber hotel you choose, kids will always have access to a choice of games and toys to play with during their free time. They will simply find themselves surrounded by all the things they love!

Combining charm, authenticity, comfort and modernity, Beachcomber kids clubs are designed to imbue children with enthusiasm.
They can make friends of their own and learn many great things, all while having fun during their holidays!