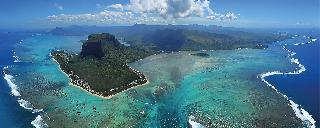 As is the case every year, ITB Berlin – one of the world's leading travel trade shows – brings together representatives from hotels, tour operators, travel agencies, hospitality associations and others. This year's event, held from March 7th to 11th, offers an exceptional visibility to Beachcomber Resorts & Hotels. The event has allowed the group to present its latest products and service offers, including the Canonnier Beachcomber Golf Resort & Spa, which reopened last September after a four-month renovation; and the Victoria for 2, a new wing of the Victoria Beachcomber Resort & Spa which is dedicated entirely to couples.
The Beachcomber delegation at ITB Berlin 2018 included Gilbert Espitalier-Noël, the Group's Chief Executive Officer; François Venin, Chief Sales and Marketing Officer; Nicolas Staub, Group Head of Sales; Kervyn Rayeroux, General Manager of the Canonnier Beachcomber; Rico Paoletti, General Manager of the Victoria Beachcomber and Mauricia Beachcomber; and Lothar Gross, General Manager of the Shandrani Beachcomber. The executives were also joined by team members from the group's German office.
The ITB trade show is the ultimate B2B platform, drawing in over 180,000 visitors – of which 108,000 industry professionals – as well more than 10,000 exhibitors, agency and media representatives from around the world. It offers sector professionals a unique opportunity to discover emerging trends and concepts in the global tourism industry.
"This event is an opportunity for Beachcomber to meet with our European partners and strengthen relationships, some of which have existed for almost thirty years," stated François Venin.