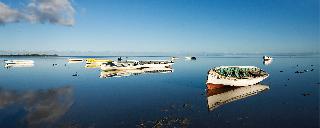 Set in the heart of a paradise island, the Mauritius Tour Beachcomber (MTB) is the perfect combination of sports challenge and hospitality. Since its launching, the competition has continued to live up to its reputation. One of the most awaited sports events in Mauritius, this mountain biking race gathers high-profile mountain bikers, amazing sceneries, adrenaline and strong sensations. This year again, for its third edition scheduled from May 17-19, the MTB will combine endurance sports with 5-star experience.
Most of the stages of the MTB 2018 will start and end at Shandrani Beachcomber. Nestled on a peninsula shielded by a marine park, Shandrani Beachcomber is the perfect venue for the event. The resort offers an array of activities for an energetic holiday: a pitch-and-putt golf course, sailing club, diving centre and kids club.

The hotel's team members will do their utmost to offer a topnotch 5-star experience to the bikers: an exceptional welcome with careful attention to detail, and of course, quality feeding zones designed and accomplished by the Executive Chefs of the Beachcomber Hotels and their kitchen crew. Dynamic massages are also on the menu after each stage of the race.
The bikers will also have a bike washing facility and security and medical teams.
The newbie this year is the organisation of a children's race on Saturday, May 19, featuring fun activities for kids.
"Since its launching three years ago, the MTB has grown into a successful event both locally and internationally through the participation of high-profile athletes - James Reid, the patron of this year's competition, belongs to the elite category in South Africa - and well-defined trails, the welcome and the quality refilling executed by our teams," confirms Arianne Devienne-Bellepeau, Leisure & Events Manager at Beachcomber.
"We can count on the keen support of our sponsors: PNL, Panagora, Nestlé and I2I Optical for another spectacular edition," adds Arianne.