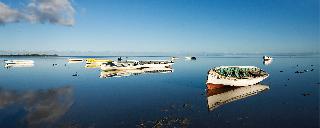 On Saturday April 14th 2018, ahead of World Earth Day, the environmental organisation Project Rescue Ocean Mauritius held an event to clean up Île aux Bénitiers with the support of Beachcomber Resorts & Hotels. The intention was to help restore the island to its original beauty. Île aux Bénitiers is a favourite stop-over for both tourists and residents during boat trips on the west of Mauritius.
Over the course of the clean-up, a group of thirty environmentally-concerned volunteers picked up litter that had been left on Île aux Bénitiers. Paradis Beachcomber Golf Resort & Spa, which is located nearby, provided a boat to ferry volunteers to the island and remove the over fifty bags of waste collected on the day. The project was also supported by the Ministry of the Environment, which provided garbage bags, cleaning gloves and a skip.
According to Cédric Jules, Project Rescue Ocean Mauritius' local ambassador, "Île aux Bénitiers is a stunningly beautiful island that is extremely popular with tourists and Mauritians alike. Unfortunately, it is not treated the way it should be. With the help of volunteers who are keenly aware of the impact of litter on the environment, we wanted to help restore the island to its original state." The organisation is planning another clean-up of Île aux Bénitiers in the near future.
Project Rescue Ocean was founded in France five years ago. Thanks to social media and the efforts of Benoît Schumann, its founder, the organisation now has branches in a dozen countries around the world. Its Mauritian branch, which was set up two years ago, organises twice-monthly beach cleans across the island and communicates about its projects via social media. The organisation also runs regular awareness campaigns with local communities: "We frequently hold talks in villages and schools to raise awareness of the importance of protecting the environment among Mauritians, and among young people in particular. It's now a matter of working together and of showing how much stronger we are when we do so", explains Cédric Jules.
The association's values align perfectly with those of Beachcomber Resorts & Hotels, which is deeply committed to sustainable and responsible tourism development. Each of Beachcomber's Mauritian hotels has been awarded EarthCheck's environmental sustainability certification and the group continues to demonstrate its commitment to the environment thanks to a wide range of sustainability and conservation projects.