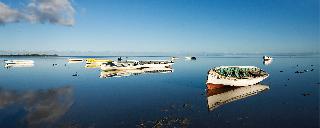 Since 2015, the Ultra Trail Raidlight Beachcomber has attracted Mauritian and foreign runners with a love for nature through its tracks across the island's beautiful landscapes. Willing to help in the protection of the Mauritian biodiversity, the organisers of this year's Ultra Trail have decided to partner with the Mauritian Wildlife Foundation. Indeed, Rs50 out of each registration fee of the UTRB will be redirected to the association, supporting their cause.
The MWF is the only association in Mauritius to focus exclusively on the protection and preservation of the country's endangered flora and fauna. According to Arianne Devienne Bellepeau, Leisure & Events Manager of Beachcomber Resorts & Hotels, "this initiative represents yet another of Beachcomber's efforts to help preserve Mauritius' biodiversity."
She also explains that "this is an opportunity for trail-runners to help MWF with its work to preserve biodiversity hotspots and areas of natural beauty, such as Ile aux Aigrettes. The islet's location next to Shandrani Beachcomber, where the UTRB village will be sited, encouraged us to support the MWF's excellent work."
The UTRB's four races are planned for July 28th and 29th this year. The races will consist of a 100 km, which will start at Paradis Beachcomber at 5am, as well as a 47 km, 25 km and 10 km. A great opportunity to combine fitness with supporting a good cause!
For more information about the Mauritian Wildlife Foundation's campaigns or to donate to the NGO directly, please visit the foundation's website at www.mauritian-wildlife.org.