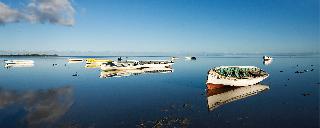 For the third year in a row, Beachcomber Resorts & Hotels has won the "Best Hotel Chain" award at the Italia Travel Awards, which took place in Rome on May 24th 2018.
The leading event of the Italian tourism sector included a gala dinner held at Rome's prestigious Church Palace and was attended by several hundred distinguished guests. The famous TV presenter and Italian radio host Roberta Lanfranchi presented the winners with awards in 37 different categories.
Beachcomber Resorts & Hotels was up against Sandals Resorts and Delphina Hotels & Resorts to win the "Best Hotel Chain" accolade. 22,755 Italian travel agents cast their votes for this award category in a free and fair poll on the Italia Travel Awards website. The first phase of the vote, which ran from October 12th to November 30th 2017, narrowed the playing field to ten hotel chains based on three criteria: quality of service, hotel quality and value for money. Three finalists were then nominated during a second voting phase, which ran from December 8th 2017 to March 30th 2018.
At the awards ceremony, Sheila Filippi, the director of Beachcomber Resorts & Hotels for Italy, said: "I'm extremely touched and impressed by the incredible loyalty that travel agencies have shown to the Beachcomber group, and the esteem in which they clearly hold our brand. I would like to thank each of them and repeat the promise that is at the heart of our mission: we will continue to cultivate beauty within our destinations, our locations and our resorts, thanks to the daily efforts of our extraordinary Artisans."