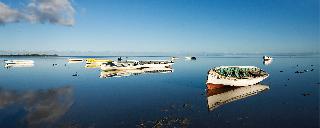 The 5th edition of Ultra Trail Raidlight Beachcomber was a massive hit, with a thrilling intense weekend last 28 and 29 July. This unique ultra-trail event in Mauritius attracted over 1,300 competitors this year, including around 200 Beachcomber Artisans. There were also some of the biggest names in trail running, such as Maxime Cazajous and Marion Delas from France, who were the patron and guest star of the 2018 edition respectively.
The trail runners set off on four different tracks offered by Beachcomber Events: the "Trail des 7 Couleurs by Raidlight & Beachcomber" (100km), a major race that can be tackled solo or in pairs, the "Trail de la Perruche by Air France" (47km), the "Trail du Nautile by Transcontinents" (25km) and the "Trail du Souffleur" (10km), which closed the event.
Maxime Cazajous from France took the crown in the marquee event, the 100km race in 12:53:08, succeeding the Nepalese, Sange Sherpa, who won the 120km run in 2017. Vishal Ittoo from Mauritius won the 47km race in a time of 04:11:52. In the 25km race, the Mauritian, Dhavind Custnea crossed the finish line first in 01:42:24. Finally, another Mauritian runner, Nitish Jhugursing completed the 10km course in 00:39:00.
This year's event featured a host of surprises, including a return air ticket from Mauritius to Paris for the winners of the 100km and 47km races. A draw also took place after the Trail de la Perruche by Air France with a chance for one finisher in the 47km run to win an air ticket. Moreover, with Beachcomber's quest to combine sport with nature conservation, a token amount of Rs50 will be donated to the Mauritian Wildlife Foundation (MWF) for each participant registered in UTRB. The MWF is the only NGO in Mauritius that is focused exclusively on the conservation and preservation of the country's fauna and flora.
"In addition to the sporting challenge, UTRB has, over the years, become a real celebration of trail running throughout all the courses, from start to finish. It is an invitation for all trail runners and hikers to discover a different aspect of Mauritius," says Beachcomber Resorts & Hotels' Leisure & Events Manager, Arianne Devienne-Bellepeau.
"Every year, our teams make it a point to offer a truly 5-star experience to participants, from the hospitality to the supervision and of course, the food and drinks. We are glad to have stood up to the challenge. Congratulations to all the participants who had a nice race as well as the Artisans who surpassed themselves in organising the event. I am also grateful to our sponsors for their support," she adds. Save the date for 2019 !