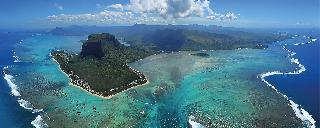 A must-attend event for tourism professionals, the IFTM Top Resa trade fair was held from 25 to 28 September 2018 in Paris. The Beachcomber delegation was present at the Mauritius Tourism Promotion Authority's booth for this 40th edition.
The entire team, comprising Gilbert Espitalier-Noël, Chief Executive Officer, François Venin, Chief Sales & Marketing Officer, Nicolas Staub, Group Head of Sales, Rémi Sabarros, General Director of Beachcomber Hotels France Belgium & Luxembourg and Guy Zékri, General Manager of Beachcomber Tours France, was on the deck to ensure optimum presence of the Group and promote its image at this 4-day event.
The highlight of this year's edition was the cocktail reception held on 25 September with the presence of the Mauritian Minister of Tourism, Anil Gayan, and the new Director of the Mauritius Tourism Promotion Authority (MTPA), Arvind Bundhun. During the event, it was announced that the Miss France 2019 candidates will be in Mauritius from 20 to 27 November. Dinarobin Beachcomber Golf Resort & Spa will have the privilege of providing accommodation for the beauty queens, the members of the Miss France committee, the production team, the technical team and accompanying journalists. This festive evening was marked by the presence of many personalities, including Maëva Coucke, who was crowned Miss France 2018 and Sylvie Tellier, Miss France 2002 and Director of the Miss France organisation.

"Beachcomber Resorts & Hotels is pleased to partner with the Miss France committee in organising this stay. A prestigious event like Miss France will have a fantastic media impact as well as tourism and economic benefits for our destination," said François Venin.
Beachcomber also used its presence at Top Resa to promote the 5th edition of Beachcomber Aventure in Mauritius. After Shandrani Beachcomber, Victoria Beachcomber will be the playground for Beachcomber Aventure in February 2019. Hosted by Denis Brogniart, the star presenter of the French TV show, Koh Lanta, this sales challenge gives travel agents the opportunity to discover the most beautiful spots in Mauritius through original activities, which allows them in turn to promote Beachcomber hotels.