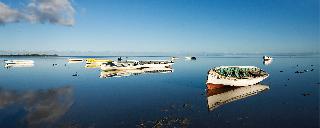 The 37th edition of the World Travel Market (WTM) held in London from 7 to 9 November 2016 has provided another opportunity for Beachcomber Resorts & Hotels to showcase the Group's new brand identity and hotel collection.
Beachcomber was represented at this major international travel industry event by the Chief Sales and Marketing Officer, François Venin, the Head of Sales, Nicolas Staub and the General Manager of Dinarobin Beachcomber Golf Resort & Spa and Paradis Beachcomber Golf Resort & Spa, Jean-Louis Pismont, who is also the current Chairman of the Association of Hotel and Restaurant Owners of Mauritius (AHRIM).
With an average turnout of over 50,000 industry professionals, ministers, agencies and media organisations from around the globe, WTM is construed as a major fair that churns out a significant number of commercial agreements.
"Our presence at WTM shows the continued interest for Mauritius in the UK Market. This has most certainly reflected in the deepening of our relationships with our valued UK partners and their very positive reactions to the new Beachcomber Resorts & Hotels rebranding," says François Venin. "Everyone is very positive for a prosperous 2017 with continued growth into Mauritius."
The Beachcomber collection of 11 hotels found themselves in the spotlight with a booth wrapped in an elegant, natural design that perfectly reflected the image of the Group. The same concept was used at international tourism fairs such as IFTM Top Resa in September and TTG Incontri in October and will be replicated at ITB Berlin in March 2017.
These events all represent precious opportunities for Beachcomber to promote The Art of Beautiful!