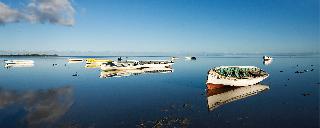 The Beachcomber Hotel Group is proud to partner on the Picasso exhibition, to be held at the Blue Penny Museum from the 24th of November 2018 to the 15th of January 2019. This is a major event in Mauritius' cultural history. The island is hosting the works of the famous Spanish painter for the first time.
Though Pablo Picasso never travelled to Mauritius, his work was deeply influenced by African and primitive art. Having never previously been exhibited in Africa – apart from in Morocco – the painter's works have now crossed the Indian Ocean, to the delight of enthusiasts and the curious alike. Through this exhibition, the latter will be able to discover the work of one of the greatest figures in twentieth-century art.
The Blue Penny Museum, a museum of history and art considered one of the jewels of Mauritius' cultural scene and located at the Caudan Waterfront, will exhibit 45 of the master's works (engravings, drawings, ceramics, small sculptures, oil paintings, and a stamp collection) over a two-month period. The pieces illustrate themes that were dear to the artist, including bullfighting and mythology. "The Mystery of Picasso", a documentary film by Henri Georges Clouzot that has been named a National Treasure by the French Government, will be shown alongside the artist's work.
This exceptional exhibition was made possible thanks to a fortuitous meeting between art dealer Steve Sowamy, originally from Mauritius, and Blue Penny Museum curator Emmanuel Richon.
Beachcomber, The Art of Beautiful
Beachcomber Group is dedicated to "the art of cultivating beauty in every form". Through this exceptional partnership, the Group is reiterating its cultural commitments and is able to offer its clients an opportunity to discover Picasso in a unique and exotic setting.