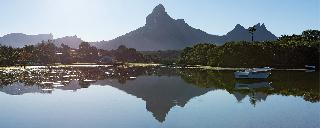 Beachcomber Resorts & Hotels has made a significant move by partnering with one of the most talented French jockeys, Maxime Guyon.
The top French rider, Maxime Guyon is wearing Beachcomber Resorts & Hotels' logo on his breech and neck roll since the 1st of February 2019. This partnership agreement covers all his races until 31 January 2021, except when riding for the Wertheimer Family. Maxime has been under contract since 2015 with the owners of the famous haute couture house Chanel, who also run a prestigious horse racing stable.

Aged 29, Maxime ranks among the best French jockeys with more than 1,500 wins, including some notable races in France, UK, Hong Kong and Dubai. He also triumphed at the International Jockeys' Weekend in Mauritius in December 2018 with three wins on the Champ de Mars racetrack.

"The idea of this partnership sparked from a conversation with Maxime during his stay at Dinarobin Beachcomber last December. Maxime's passion for Mauritius and Beachcomber makes him the most suitable ambassador for our resorts in the French horse racing community. What started as a simple idea quickly turned into a sponsorship agreement. We are convinced that this collaboration will provide us with enhanced visibility among horse racing enthusiasts in France. We thank Maxime for his trust and wish him great success riding our colours," says Beachcomber Resorts & Hotels' PR & Promotion Manager, Koogen Vythelingum.

As an obvious continuation of Beachcomber's association with the French horse racing industry through 'Galopathlon', this partnership adds yet another dimension to the group's visibility on French racecourses. A professional rider since 2008, Maxime has always been in the Top 3 in the French Jockeys' Championship with an average of 150 wins per year. Through this collaboration, the hotel group will secure significant brand visibility, especially considering that Maxime rides in most of the major races like the Prix du Jockey Club, the Prix de Diane or the Prix l'Arc de Triomphe. As Beachcomber's ambassador with horse trainers and owners, Maxime will be attending all Beachcomber's racing events held in France.