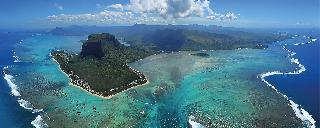 Good news for golf aficionados! The four-star Canonnier Beachcomber Golf Resort & Spa has just opened a new mini-golf course for children and adults, giving you yet another reason to stay in this heavenly hotel in northern Mauritius.
True to its spirit of innovation, celebrated Mauritian hotel group Beachcomber Resorts & Hotels has just inaugurated a unique mini-golf in one of the group's flagship resorts: the Canonnier Beachcomber Golf Resort & Spa.
The course was designed by former golf pro Peter Matkovich and offers breath-taking views of the Indian Ocean. It is a miniature replica of the last nine holes of the Mont Choisy Golf course, an exceptional 18-hole course located in the immediate vicinity of the hotel.
The mini-golf – The Mont Choisy Le Golf Putt Putt by Canonnier Beachcomber – is nestled in an idyllic part of the hotel, in the heart of a beautiful tropical garden that faces the northern islands and in which coconut palms, casuarinas and barbary figs compete for attention. It is intended to be playful, friendly and accessible to all, and allows everyone, without exception, to learn to play or practice their swing in an informal setting. Children can hit a few balls as part of the activities on offer at the hotel's Kids Club. It also caters to night owls: the course is lit as soon as the sun sets, making it the perfect place for late-night carousing beneath the stars!
Want to move up a gear? The 18-hole, par-72 Mont Choisy Le Golf, located a stone's throw from the hotel and the only course in northern Mauritius, is an opportunity to experience all the pleasures that golf has to offer. Thanks to the Cannonier Beachcomber's partnership with this international-standard golf course, hotel residents benefit from preferential rates on green fees, complimentary transfers, and access to an equipment rental facility. The hotel's boutique also offers a selection of golf clothes for sale.
Set on one of Mauritius' most historic sites, the Canonnier Beachcomber Golf Resort & Spa offers memorable holidays in an enchanting environment. This family-friendly Beachcomber Resorts & Hotels establishment is set apart by its authentic and relaxed atmosphere. With its white sand beach that offers superb views of the northern islands (including the iconic Coin de Mire), its tropical gardens, its unique Teens Club, its Kids Club equipped with high-end safari tents, and its spa nestled in the heart of a two-hundred-year-old banyan tree, the Canonnier Beachcomber Golf Resort & Spa is the perfect place to relax and unwind.