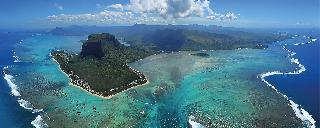 The Group's flagship property in the Seychelles has been actively supporting the Beachcomber Sainte Anne Island Open Golf Tournament for the past two years, as well as the development of this sport full of tradition and values in the archipelago.
The tournament was played under a stroke play format on Saturday 24 October at the Seychelles Golf Club course, at Anse aux Pins. The winner was the two-time champion of the archipelago, Jimmy Esther, who was offered a stay at Sainte Anne Island as well as a beautiful trophy.
The Beachcomber Sainte Anne Island Open Golf Tournament also saw the participation of the Frenchman Olivier Magnou, a 2nd degree instructor at the Parcours Sensations golf school, near Biarritz. A member of PGA France with more than 20 years' teaching experience, he has once again used his visit to the archipelago to run a golf school at the Seychelles Golf Club for children from the Plaisance primary school, in Mahé, on the eve of the tournament.
This initiative is in line with Sainte Anne Island's policy to share the experience of sporting champions with young Seychellois. The hotel has been a strong partner of golf in the country for a number of years and has supported various activities of the Seychelles Golf Club. It was also associated with the national team, which has recently won medals at the 9th Indian Ocean Island Games in Reunion Island, where the sport was a demonstration event.