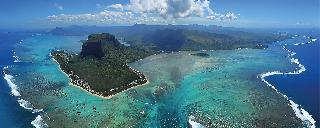 After endorsing the Mauritius Tomorrow initiative, Beachcomber Resorts & Hotels has lent its support to another national event, the Porlwi by Light festival. Following on from the success of the first edition, Porlwi by Light 2016 took place from Friday 02 to Sunday 04 December. This festival of lights aims at promoting the wealth of history and heritage of Port Louis. In addition to some new and creative installations, the public has discovered a number of talented musicians, taggers, stilt-walkers, clowns, mimes, poets, slammers and dancers, among others.
As a partner of the event, Beachcomber Resorts & Hotels has hosted until the 5th of December a dozen artists who took part in the event. A welcome cocktail was held in their honour on Tuesday 29 November at Trou aux Biches Beachcomber Golf Resort & Spa.
Beachcomber Group also had a marked presence through its new visual: during the festival, a group of artists have used sand to create a mandala (Rangoli) representing the 'B Nautilus'. It took 5 hours to complete this work of art live on-site at the Port Louis Waterfront Esplanade on Friday evening.
This festival with a cultural, tourism, educational and socio-economic purpose attracted some 450,000 visitors to the capital of Mauritius in 2015. The central theme for this second edition was 'People'. "Beachcomber is proud to be a partner in this project, which reflects The Art of Beautiful, a concept which, just like Porlwi by Light, blends the beauty of places with the good-heartedness of artisans," says the CEO of Beachcomber Resorts & Hotels, Gilbert Espitalier-Noël.