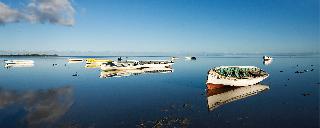 One of the most talented young tennis players and a winner of two Grand Slam tournaments, Spanish champion Garbiñe Muguruza chose Trou aux Biches Beachcomber Golf Resort & Spa and Royal Palm Beachcomber Luxury to unwind at the end of a difficult 2018 season on the courts. She shares her views about her sport and about what it takes to reach the top.
After a hectic year 2018 on the courts around the world, you had relaxing holidays at Trou aux Biches Beachcomber and Royal Palm Beachcomber Luxury in Mauritius. Why this choice of destination and resorts?
I had heard a lot about Mauritius and November is the only time I can really take a long vacation to relax and disconnect. The weather in Mauritius is perfect at this time of the year, so it made a lot of sense to try this experience. I was looking for a quiet and healthy destination to do some diving, some water sports and to relax. So it was a lot of fun and people were so welcoming!
Trou aux Biches Beachcomber Golf Resort & Spa
What best memories are you taking back from your stay there?
Both hotels are beautiful and very classy. The decoration, the services and amenities were all I was looking for. I really had fun diving, waterskiing and also riding in the helicopter to see the entire island from the air.
Have you spent some time playing tennis on the courts of those resorts?
I saw the courts; that looked perfect, but I didn't bring any racquets! Maybe I will do it next time. Actually, I try to disconnect from tennis when I am on vacation. But I did some gym workout.
2018 seems to have been more difficult for you than the previous years. What is your own assessment and what are your objectives and expectations for 2019?
I think we always have to take the best of every situation. I have learned a lot in 2018 and I am sure all this is going to help me in the future. For 2019, I am taking a fresh start. We all begin with zero points and, as always, I will do my best. The most important thing is to continue to work and improve in all aspects of my game.
You have a relatively short career as a pro player, starting in 2012, but with great achievements, including two Grand Slam titles and WTA Player of the Year and ITF World Champion accolades. What have been your most challenging and your best moments on the court till now?
Winning Roland Garros and Wimbledon are probably the best memories I have had on a tennis court. But also being able to overcome difficult situations, like having foot surgery when I was 18. Tennis is so beautiful and hard at the same time, because you can win a Grand Slam tournament and then, one week later, you are back on the court competing again in a first round and having to win two sets to keep going in that tournament. There is no secret and winning one week doesn't guarantee you will win the next match.
You are one of the very few players to have defeated Serena Williams more than once in the last legs of Grand Slam tournaments in a few years. Is she a champion with over 20 Grand Slam titles – and one from another generation – who you look upon to, or only a very strong opponent to be challenged?
She is one of the best players in tennis history. I remember watching her play against Venus when I was a little girl. I have a great respect for her, for what she has achieved on and off the court.
The controversy regarding Serena Willams at the last US Open has brought forward a debate about double standards with gender bias in professional tennis. How far is it true, from your own experience?
I think tennis is the most equal professional sport in the world. Of course we still have a lot of things to improve, but I am happy to be part of a sport that is an example for others when it comes down to women's rights. The more we grow, the more every aspect of the game, such as the players themselves, or the tournaments, will improve. We are in a good position to continue to be leaders for women in sports.
What does it take to become a top-ranking tennis champion as you are, reaching the top 10 several years in a row and being number one last year - after starting tennis at the age of five?
You have to love tennis and practice it unrelentingly, spending most of the time working hard behind the scenes. You also have to be competitive and motivated to be the best version of yourself. Besides, you've got to have talent and be strong mentally. Dealing with lots of travelling and lots of time on your own is also something to be ready to do. But if you get lucky and you make it in the WTA Tour, it is the best life you can have! We are very lucky to do what we love and to make a living doing it.
What is your type of play and how far is it possible, or necessary, to adapt your style and technique to be able to outplay an opponent and win in different matches?
I am a very aggressive player. I like to be in command and take the initiative. I have to combine that with patience to be able to wait, build the point and create the opportunities – and when I get one, I go way for it!
Royal Palm Beachcomber Luxury