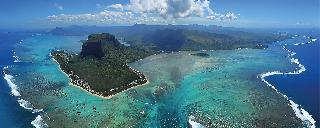 From September 2-6, as part of a partnership with Beachcomber Group, Trou aux Biches Beachcomber hosted a crew from One FM, a No. 1 Radio Hit in Swiss Romande with 160 000 listeners daily.
Five morning shows were aired Live at the hotel. A Senior Suite, was transformed into a studio and was exceptionally named «One FM Suite». The radio hosts, Lionel, Ellen, Vincent and Quentin made their listeners discover Mauritius through a plethora of guests, including, Beachcomber Group representatives François Venin, Chief Sales & Marketing Officer for Beachcomber Resorts & Hotels, Mario Desvaux de Marigny, Golf Manager at Paradis Beachcomber Golf Resort & Spa, Stéphane Lagesse, Hotel Manager at Trou aux Biches Beahcomber Golf Resort & Spa, Christine Tin Sew, Spa Manager at the hotel, Olivier Rougier Lagane, Sales Manager for Beachcomber Resorts & Hotels but also Prem Sewpaul, Vice President of Air Mauritius, Emmanuel Richon, Curator of the Blue Penny Museum and the musical buzz of the moment, Murvin Clélie, lead singer of The Prophecy.
Talking to One FM, François Venin highlighted the importance of Switzerland for the Mauritian market.
"Beachcomber is the pioneer and the largest hotel group of Mauritius with a rich history that spans over 60 years. We have a very strong bond with Switzerland, especially Trou aux Biches Beachcomber. All our resorts have hosted many Swiss tourists and the Swiss market ranks fifth for us, after France, Germany, UK…", he stated.
"Mauritians are well known for their hospitality and people are truly welcoming and friendly,'' he pursued while recommending the island's best sites, like Pamplemousses Garden and water activities like diving, water ski or the popular hiking, to the listeners of One FM.
François Venin underscored the specificity of each Beachcomber resort and their services, whether it is Canonnier Beachcomber, Mont Choisy Le Golf, Mauricia Beachcomber, Victoria Beachcomber, Royal Palm Beachcomber Luxury, Paradis Beachcomber and its golf, Dinarobin Beachcomber nestled on the Morne peninsula, Shandrani Beachcomber and of course, Trou aux Biches Beachcomber.
Olivier Rougier Lagane, Sales Manager of the Swiss Romande market at Beachcomber, is very pleased with this initiative.
"We have been working with One FM of Media One – one of the largest radio companies in Switzerland - for some years now. This year, we thought, why not bring the morning show Live to one of our hotels! Our partners in Switzerland welcomed the idea. One FM also received several messages from their listeners who were staying with us. This initiative definitely brought us more visibility. We reached out to existing but also new clients," he affirms.
Thanks to its various marketing campaigns, Beachcomber Resorts & Hotels is well established on the Swiss market. The group hosts about 8 000 Swiss visitors annually and remains one of the Swiss tourists' favourite.