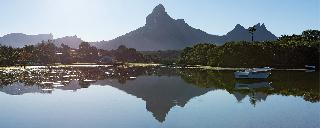 A living legend, South-African rugbyman Joel Stransky will be the patron of Mauritius Tour Beachcomber (MTB) 2020 that will take place from the 30th of April to the 2nd of May.
« I am a great fan of Mauritius, an island where I have spent holidays several times before. This time, I will be there for a very special reason: to take part in the MTB. I am passionate about mountain biking and this will be a great opportunity to enjoy the race as well as family holidays in one of the most beautiful places on Earth », he says. Joel Stransky is an iconic hero of the Springboks team, having scored the winning drop (as well as all the South-African points) against New Zealand's All Blacks during the final match of the World Cup in 1995.
After four successful editions, this not-to-be-missed mountain bike race is back in 2020 for another exciting weekend in an enchanting setting worth of a 5-star rating — on a par with Beachcomber's event organisation and corporate standards. « Mountain bike enthusiasts will be treated with an amazing panoramic course », says Arianne Devienne-Bellepeau, Leisure & Events Manager of Beachcomber Resorts & Hotels.
MTB 2020 will host cyclists on four stages for a total distance of 195km. Starting on the 30th of April at Paradis Beachcomber at the foot of the legendary Le Morne mountain, the first stage will take participants through 70 kilometres of a challenging and breathtakingly beautiful track. Before reaching the finish line at Shandrani Beachcomber, the course also winds through some of the island's South typical villages, for an immersive experience of this less known region of Mauritius.
The second stage is scheduled for the 1st of May. From start to finish - both at Shandrani Beachcomber - the competitors will discover a rolling yet technical 45-kilometres track, in the most scenic parts of the southern coast of Mauritius.
Stage 3 will take place on the same day, in the evening. Participants will enjoy this nighttime race's festive and friendly atmosphere over the 22.5 kilometres of its track around Shandrani Beachcomber.
On Saturday, the 3rd of May, riders will tackle the final stage, on a course over 60 kilometres through Le Val's natural park, St Hubert village and Chemin Français, to reach Riche en Eau, Beau Vallon and then the finish line at Shandrani Beachcomber.
The kids-only race will be back for this year's event. Open to children aged 5-12, the race will take place at Shandrani Beachcomber on a course made for fun including a lot of surprises. The rate for this race is Rs 800 per child.
Registrations for MTB 2020 are already open, until the 16th of April. An early bird rate of Rs 4,200 is available up to the 29th of March. The normal rate of Rs 5,700 will be applicable as from the 30th of March.