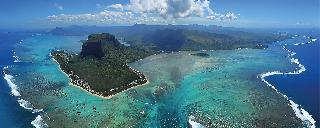 Four breath-taking tracks await trailers for a unique 5-star race.
Trail running and nature lovers can register as from this day, 19 December 2016, to the Ultra Trail Raidlight Beachcomber (UTRB) scheduled for 08 and 09 July 2017 in Mauritius. This fourth edition of the now renowned set of races will treat participants with its traditional 5-star service and supply points, as well as breathtaking tracks.
Four races make up the UTRB this year, all of them offering a unique mix of challenging and enticing experience for all categories of trailers. All the trails of UTRB are an invitation to discover the wildest and most amazing parts of Mauritius, across fields and forests, along mountainous paths, atop cliffs or on pristine beaches. Some tracks wind through natural sites that are part of private domains and that will be exceptionally accessible to UTRB participants.
The 2017 edition has a totally new 25km race in the southern part of the island – one that will delight short-to-medium distance runners. That Trail du Nautile (Nautilus Trail) takes its name from the new icon of the Beachcomber brand: the famous nautilus seashell. It will be a longer challenge than the flat, coast-hugging 10kms Trail du Souffleur, but less demanding that the more hilly and longer 47kms Trail de la Perruche.
The flagship 120km Trail des 7 Couleurs is for the most experienced competitors and also gets a revamp with part of the track being changed – whilst keeping the spectacular character of the route in mountains, forests, fields and beaches. Its challenging distance and 4,500m of positive elevation however remain the same. And so does the climb to the top of Piton de la Petite Rivière Noire, the highest peak in Mauritius, from which contenders can gaze over almost all of the island.
The finish line for all four races will be on the beach at Shandrani Beachcomber Resort & Spa, where will also be set the "UTRB village". Along the tracks, buffet-like supply stations will provide the runners a 5-star experience that they deserve.
Shandrani Beachcomber will again be the ideal accommodation choice for family or friends' stays during the race. The beach resort will host the briefing, the delivery of race numbers, the finish of all four races as well as the vibrant "UTRB village".
Nepalese runner Sange Sherpa will take over from Nathalie Mauclair as the patron for UTRB 2017. This international champion was born in a remote village of Nepal and was a luggage carrier and mountain guide before moving to France, of which he is now a citizen. Since 2012, his accomplishments were as follow: he won the Ultra Trail du Jura (110km) and was third at the 140km Echappée Belle, achieved a fourth place at the 2015 Eiger Ultra Tour which was a great reward for his first participation to an Ultra-Trail World Tour race.

Sange Sherpa
Get registered on : www.beachcomber-events.com