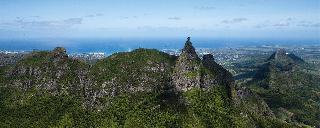 The second edition of the Beachcomber Adventure, organised in partnership with the Seychelles Tourism Board and Air Seychelles, is over since last week. The 12 lucky winners of the sales challenge are back home after an exciting four-day adventure hosted by the French TV host, Denis Brogniart on Sainte Anne Island in the Seychelles.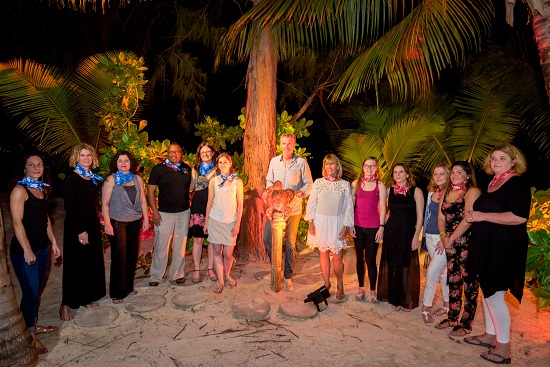 Beachcomber Hotels and its partners launched on 1 September 2015 the second edition of this sales challenge, "An island adventure with Denis Brogniart". The 10 best sellers and 2 winners selected through a draw were divided into two teams and squared off over four days in sports events combining adventure and art de vivre.
"This wonderful Beachcomber Adventure in an equally wonderful setting has left us with some delightfully exciting memories!" says Marie Josephus Andre from the Selectour Afat Massilia Voyages agency.
Kayaking across the turquoise blue lagoon, archery, lobster fishing, the poles challenge, a night under the stars, round-the-island hiking as well as tasting some rather unusual dishes awaited the participants. Those four days of competition were also unique moments of conviviality and discovery.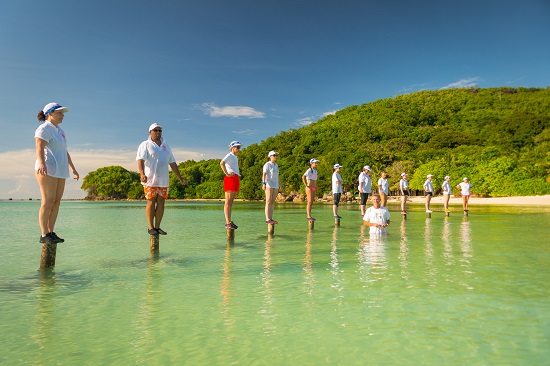 Caroline Da Silva received the final totem and the 2016 Adventurer of the Year Award at the last meeting of the Council, which was a prelude to a great closing evening. "I am still far from being a true adventurer and ready to take part in Koh Lanta, but my adventure can be summed up in two words: unforgettable and magical. I've met with some great people and the organisation was just fantastic. I will always remember this beautiful experience, which allowed me to meet some amazing people in an idyllic setting," says the winner.
The 12 travel agents who took part in the adventure were Marie Josephe ANDRE from the Massilia travel agency in Marseilles, Helene ANDRIEUX from the Prêt à Partir travel agency in Bordeaux, Caroline DA SILVA from the Galeries Lafayette travel agency in Caen, Vanessa DILLET from the Lambot Voyages travel agency in Sables d'Olonne, Amandine LANIESSE from the Envies d'Aill'Eure travel agency in Le Neubourg, Magaly MONNOT from the Monde Actuel Voyages travel agency in Charleville Mezières, Clarisse RIOUX from the Transgallia travel agency in Troyes, Annick STOFFER from the Printemps Voyages travel agency in Marseilles, Sophie TOULISSE from the Afat travel agency in Noisy le Roi, Laura TORRES GAYO from the Jet Air travel agency in Brussels, Max TRECASSE from the Havas Voyages travel agency in Rueil Malmaison and Raphaelle WEYMESKKIRCH from the Sangio Horizons travel agency in Metz.