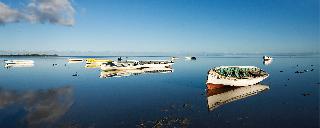 Le Canonnier Hotel has this year joined Paradis Hotel & Golf Club, Trou aux Biches Resort & Spa and Shandrani Resort & Spa among the selection of properties to be awarded Hotel.com's Certificate of Recognition for consistently delivering outstanding service and offering a memorable guest experience.
The four Beachcomber hotels gave achieved outstanding ratings from Hotels.com customers. The Certificate of Recognition also acknowledges their dedication and high standards.
The ultimate leisure resort in Mauritius, Paradis Hotel & Golf Club enjoys a superb location on the island's south-western tip. It offers superb accommodation in rooms, suites or villas fringed by a pure white sand beach and the island's largest lagoon. Trou aux Biches Resort & Spa is the most romantic hotel on the island with a strip of white sandy beach, a turquoise lagoon with crystal-clear waters and a 35-hectare tropical garden. Situated on the north-west coast, it provides the idyllic setting for the perfect wedding and honeymoon in Mauritius.
Located in the unspoilt south-east, Shandrani Resort & Spa is a unique luxury holiday setting for beach and nature lovers. Set on a private peninsula lapped by the Blue Bay Marine Park, it has three different beaches to discover. One of the best family resorts in Mauritius, Le Canonnier stands proudly above the coastline on a historic peninsula. The hotel enhances the authentic Mauritian atmosphere with commanding views over the northern islands and sparkling Indian Ocean, lush tropical gardens dotted with cascading pools and a string of secluded creeks.
Hotels.com is a leading provider of hotel accommodation worldwide, offering booking services through its own network of localised websites and telephone call centres. An affiliate of the Expedia Group, it gives travellers one of the widest online selections of accommodation in over 240,000 properties worldwide. The company offers a one-stop shopping source for hotel pricing, amenities and availability and also specialises in providing travellers with accommodation during sold-out periods.