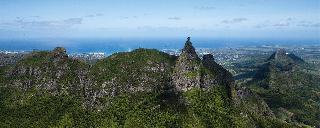 At Royal Palm Marrakech, summer has found its way into the dishes served at L'Olivier Restaurant with a varied new menu of delicious food prepared using organic products coming straight out of Chef Yann Meinsel's vegetable garden.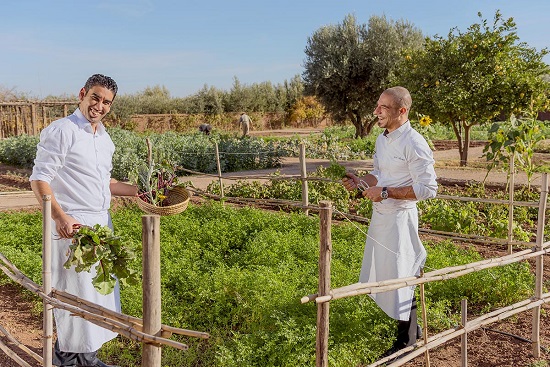 Inventiveness blends with refinement to create fresh and healthy light meals for guests to enjoy in the idyllic setting of L'Olivier Restaurant. Overlooking the main pool of the hotel, the restaurant combines modernity and authenticity with an unobstructed view over the Atlas Mountains.
Recipes that beam with sunshine and the flavours of summer complement the breathtaking views. The new menu features entrées such as the 'Spider crab with avocado like a cannelloni, spiced cream condiment', salads, signature dishes, as well as the tasty 'Royal Palm Burger, French fries and crunchy onion', the 'Thick salmon steak, green peppercorns, coriander, anise, pink berries, coffee and sesame seeds', or the 'Catch of the day' with rosemary.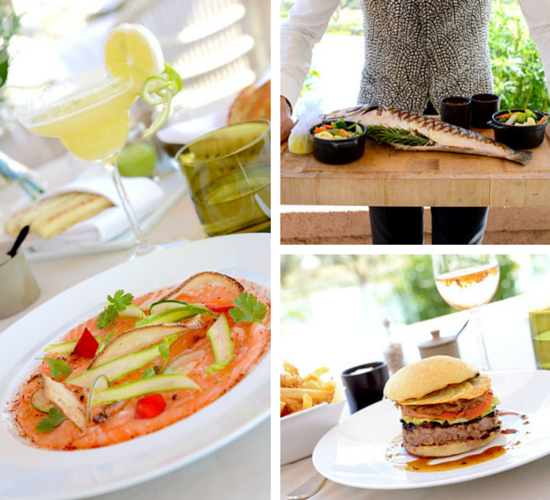 There are also plenty of tempting desserts for sweet lovers, such as the 'Cinnamon iced parfait, orange blossom tapioca', the 'Melba style-strawberries, lemon and basil sorbet and almonds crumble' as well as the 'Grand cru chocolate pots, orange tuile'.
A true feast for all tastes and appetites!
The Chef's recipe
Thick salmon steak, green peppercorns, coriander, anise, pink berries, coffee and sesame seeds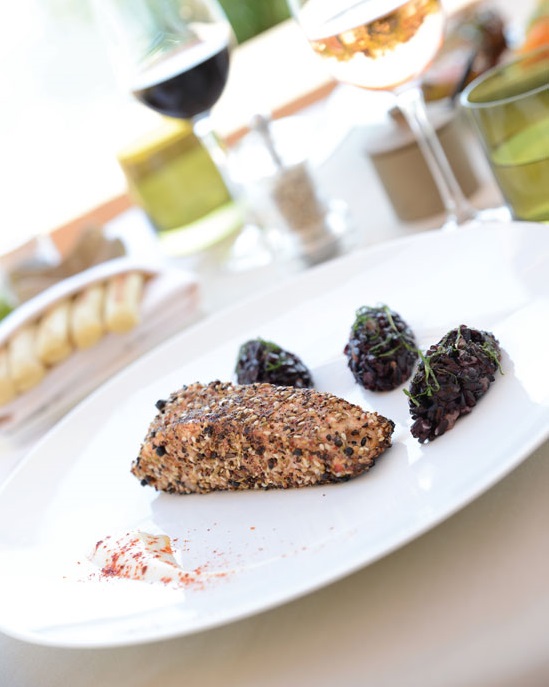 Ingredients
2 fresh salmon steaks
20g long pepper
20g green pepper
20g coriander
20g green anise
20g pink pepper
20g coffee beans
20g white sesame seeds
20g black sesame seeds
20g Fleur de sel
20g whole black pepper
Garnish
100g Venere rice
20g tomato
10 mint leaves
Salt and pepper
Raita sauce
40g yogurt
20g diced cucumber
20g diced red pepper
Espelette pepper
Preparation
1. Grind the spices in a mortar and pestle, oven-roast them and place the salmon steaks with the spices. Cook in a tandoor oven for 6 minutes at 240°C.
2. Cook the shallots in butter, then add the rice and increase the heat.
3. Add the white stock in 3 parts until the rice absorbs the stock. Then add the diced tomato and the snipped mint.
4. Adjust the seasoning.
Raita sauce
Mix the yogurt, diced cucumber and red pepper, snipped mint and Espelette pepper.
Bon appétit!