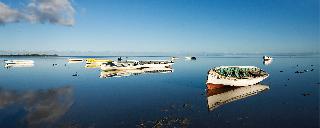 After the first two editions of the "Beachcomber Aventure" in the Seychelles, this year's event will be hosted for the first time in Mauritius at the Dinarobin Beachcomber Golf Resort & Spa. Twelve travel agents from France and Belgium will fly with Air Mauritius on an epic four-day island adventure from 31 January to 03 February 2017. The participants, divided into two teams, will take part in challenges blending art of living with sports action, designed by Denis Brogniart, a star presenter on the French TV channel, TF1.
The programme will among others include kayak races, archery, fauna and flora exploration, but also some convivial culinary experiences.
More than 220 travel agents took part in this 3rd edition of the "Beachcomber Aventure". Following a four-month-long challenge, the 10 top-selling agents and 2 lucky draw winners have earned the privilege to participate in the event.
Congratulations to:
Myriam COCHENET from the Tendance Voyages agency in Saint Raphael
Fabienne ESNAULT from the Club Med Voyages agency in Le Mans
Cécile DENNIEL from the Préférence Voyages agency in Nantes
Céline GOETZ from the We Love To Travel agency in Howald
Aurélie DIDIER from the Tertio Voyages agency in Hirsingue
Suzel PREVEIRAUD from the Vivrance agency in Grenoble
Leah REDOUBT from the Celtea Voyages agency in Saint Malo
Angélique LEFEVRE from the TUI Store in Plaisir
Julien Edel from the Formigolf agency in Colmar
Chantal BACHELARD from the Courtine Voyages agency in Avignon
Alisson HERTERT from the We Love To Travel agency in Messancy
Sophie AYMARD from the TUI Store in Levallois
The first site visits for the "Beachcomber Aventure" were conducted in October 2016 by the Beachcomber teams, including the Hotel Manager of the Dinarobin Beachcomber, Fabrice Pinault, the General Manager for France, Belgium and Luxembourg, Rémi Sabarros as well as the Head Office PR & Promotions team, in the presence of Denis Brogniart.
The suites of the Dinarobin Beachcomber are located in bungalows nestled amidst a lush garden dotted with swimming pools. The hotel also features 4 restaurants and a spa, carrying the promise of an enchanting experience. Besides all this, the Dinarobin presents itself as an exciting playground with a white sandy beach and a clear blue lagoon that provide an idyllic setting for sports activities under the care of Le Morne Brabant Mountain.
Beachcomber Resorts & Hotels and its partners, Air Mauritius, Mautourco and the Mauritius Tourism Promotion Authority wish the 12 participants a pleasant stay and a wonderful adventure!