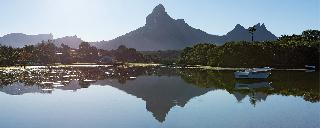 Guests at Le Mauricia Hotel are treated to a hands-on experience of traditional Japanese cuisine with an introduction to the art of sushi making by Chef Georges Wong Cheong Ying.
Every Thursday at around lunch time, the wooden deck by the beach at Le Mauricia turns into a sushi making class, which is becoming increasingly popular with guests staying at the hotel.
In a Japanese-inspired décor with ingredients used in making sushi as props and against the stunning backdrop of the blue waters of the Indian Ocean, the hobby chefs don their jackets and aprons for an entertaining and informative lesson. Chef Georges teaches them the basics to try their hand at preparing their own sushi, from cooking the Sumeshi (rice) to preparing the fillings, the rolling techniques as well as a few recipes and tips.
At the end of each session, participating guests receive a certificate of attendance and of course, are invited to grab their chopsticks and enjoy a taste of the fresh flavours of their creations.
A 'sushi-ful' experience for holidaymakers!