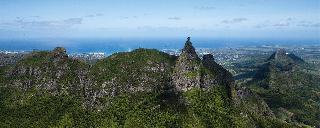 The curtains are raised again for the second edition of the 'Théâtrales de l'île Maurice' (Mauritius Theatre Festival), a cultural event organised between 28 May and 5 June 2016 by Beachcomber Hotels and the French producer, Pascal Legros with a host of big-name stars.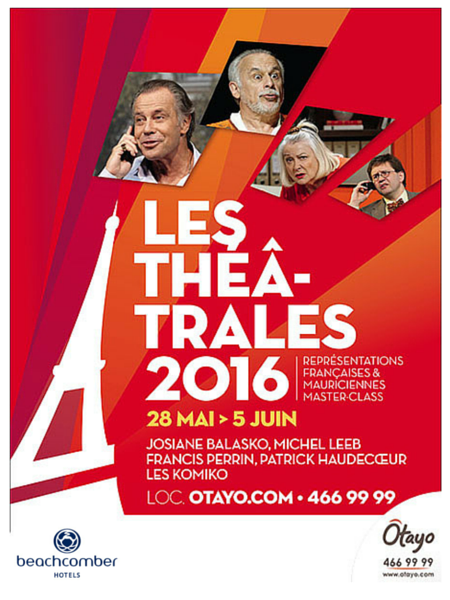 Beachcomber and Royal Palm Mauritius are once again partnering with the Mauritius Theatre Festival and will be hosting the different troupes invited for this Franco-Mauritian cultural event. Michel Leeb, Patrick Haudecoeur, Josiane Balasko and Francis Perrin are among the iconic names of French theatre who will be performing four plays which have met with great success in Paris. Arts and culture enthusiasts will also discover a new play created by the Mauritian troupe, Komiko. A press conference with all the artists was held as Royal Palm today.
For this second edition, the following plays are scheduled to be staged from Wednesday 1 to Sunday 5 June at the Mahatma Gandhi Institute, Moka and Serge Constantin Theatre, Vacoas:
Le Tombeur (The Womanizer) is a play created in 1958 by Robert Lamoureux, in which Michel Leeb plays once again the role of a car salesman who loves to pursue women; a role that he successfully played at onset of his career in 1986. He is all at the same time an adorable yet outrageous character, a charmer, a seducer, a loyal friend, a coward, a scared and coy character. A hilarious and crunchy cult comedy hit!
Le dîner de cons (The Dinner Game) is a delicious play by Francis Veber which was performed for the first time in 1993. This multi-awarded classic popular comedy has been re-enacted countless times. In a new production by Agnès Boury, Patrick Haudecoeur steps into the shoes of the famous François Pignon, an Income Tax Department employee who is fond of building bridge models with matches. He enters into a fierce but moving and funny confrontation with Brochant, an editor. Cult dialogues and laughter guaranteed!
Un grand moment de solitude (A moment of great solitude) marks the return to theatre of Josiane Balasko. A stunning comedy about psychologists and their patients, written and staged by the artist herself. A somewhat crazy play with unimaginable plot changes and full of unexpected twists!
Molière malgré moi (Molière in spite of myself) pays tribute to one of the greatest playwrights in the history of French theatre. An artistic performance by Francis Perrin who, after having played Scapin, Alceste, Philinte, Sganarelle, Mascarille and George Dandin, draws his inspiration from the daily life of France's most prominent comical actor and his most famous works to reveal unsuspected facets of Molière!
La promesse (The Promise) is a new play presented by the Komiko troupe, featuring a possessive, anxious and extremely jealous woman. She won't forget their wedding promises and hires a private investigator to snoop on her husband. His report will upset their relationship!
Some great moments of theatre that you won't want to miss!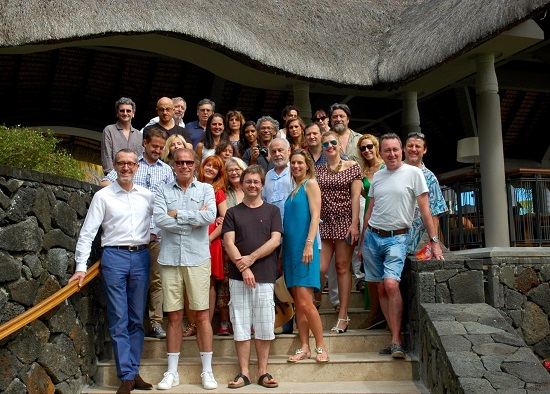 Press conference on 31 May 2016 at Royal Palm Mauritius