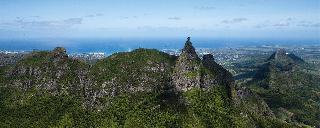 The very first edition of the Mauritius Tour Beachcomber - 5-Star Bike Adventure, staged by Beachcomber Events from 19 to 21 May 2016, has been an engaging race which has lived up to its promises in terms of organisation and as a sports event.
This challenging and fun-packed four-stage mountain bike race across wild and varied terrain has attracted around 60 riders. The participants were from Mauritius, Kenya, Reunion, France and South Africa among others.

The overall winner of this first edition was Yannick Lincoln, who will represent Mauritius in the mountain bike race at the Rio Olympic in a few weeks' time. He covered the four stages totalling 200km in a cumulative time of 7hrs52'16, ahead of the South African, Christopher Wolhuter (8hrs05'31) and another Mauritian rider, Alexandre Mayer (8hrs08'51), who also finished first in the juniors category.

Yannick Lincoln took the lead from the very first day. He won the first stage, raced along a mind-blowing 80km course running from Paradis Hotel & Golf Club, at the foot of the spectacular Morne Brabant Mountain to the beaches in the south-east of Mauritius. It was a really tough stage due to windy and rainy weather conditions.
The following day, Mathieu Desserprit, winner of the 2015 Mountain Bike Championship of Reunion, won the second leg of the race, a rolling and not too technical 40km course from Shandrani Resort & Spa, a 5-star Beachcomber hotel in the south-east, to the centre of the island. Christopher Wolhuter, one of South Africa's top mountain bikers, finished first in the third leg , a 24km night race.

The Mauritian rider worked hard on the last day against a field of fierce opponents such as Wolhuter and Desserprit as well as Gregory Maillot from Reunion and the Frenchman, Frederic Ischard to win the final 55km stage. The course combined some technical challenges with grandiose landscapes, rounded off with a grand finale at Shandrani Resort & Spa.

In the Masters 1 category (40-49 years), the top three finishers were the Mauritian Pascal Pilot, Dominique Hardy and Richard Julien respectively. Fabrice Loic Guinard from Reunion outpaced the Frenchman, Stephane Kravtsoff and the Mauritian Gerard Chan Kin in the Masters 2 category (50 years and over). In the women's category, Flavie Montusclat from Reunion finished first ahead of the Mauritian, Vanessa julienne.

The intense competition did not prevent a friendly atmosphere between participants, who enjoyed a 5-star service and accommodation at a discounted rate in a selection of Beachcomber hotels, throughout the three race days. The second edition of the Mauritius Tour Beachcomber Tower 5-Star Bike Adventure next year promises to be equally exciting!