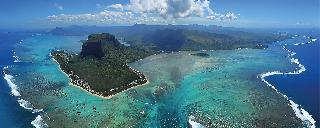 As Morocco is preparing to host the 22nd World Climate Change Conference (COP 22), Domaine Royal Palm Marrakech has decided to offer a truly 'green' experience to its guests. The latest development of the Mauritian Group, Beachcomber is firmly committed to an environmentally responsible approach and after recently receiving the international 'Green Key' certification, is looking to capitalize on the COP 22 conference to reiterate its commitment to push forward environmental issues.
Through dealing with climate change issues and the progress that still needs to be made in terms of sustainable development, the COP 22 conference will bring some very important discussions to the fore between 7 and 18 November 2016. This event offers a tremendous opportunity for Morocco to present and put forward its government's commitments to climate action. It also allows smaller entities to showcase their involvement at the local level. The Beachcomber Group has always been concerned with sustainability issues within its 8 hotels in Mauritius and its property on the private island of Sainte Anne in the Seychelles. It was therefore only natural that Domaine Royal Palm Marrakech, which opened its doors in December 2013, reflected the environmentally sustainable philosophy of the Group.
Domaine Royal Palm houses spectacular flora and age-old olive trees, palms, orange and lemon trees, lavender flowers and many other wonders of nature can be found in its gardens, situated at the foot of the Atlas Mountains. Various facilities have been installed to preserve the uniqueness of this lush vegetation and better manage resources. The Domaine hence uses a rainwater harvesting system and has funded the construction of a wastewater treatment plant for watering the gardens and golf course. The use of fossil fuels has also been reduced in favour of solar energy. Finally, the complex has a nursery providing most of the trees and plants that have been introduced to the site.
The Domaine's commitment has recently been recognized by the international 'Green Key' certification. Supported by the United Nations Environment Programme (UNEP) and the United Nations World Tourism Organisation (UNWTO), the Green Key certification is based on various criteria. From the environmental policy to water, energy and waste management as well as quality of life, nothing is left to chance.
It's in the heart of this unspoilt nature that Royal Palm offers a truly 'green' experience. Through various activities and experiences, guests can witness the efforts made and become better aware of environmental issues, which will be increasingly important in the future.
Luxury & Nature Experience at Royal Palm
Domaine Royal Palm is dedicated to combining luxury with nature. The Royal Palm's unspoilt setting allows reconnection with Mother Nature. From the moment they arrive, guests are welcomed with a breathtaking view of the Atlas Mountains, vast expanses of greenery, trees and plants, which are essential for purifying life energy. For a deeper immersion in nature, 100% nature-based activities are available on the Domaine.
A visit of the Domaine's organic farm
A back-to-nature experience in a bucolic country setting to enjoy a taste of the Domaine's organic products.
A guided tour of this farm allows guests to enjoy the company of hens, rabbits and horses as well as a multitude of activities on a nice sunny day.
A discovery trip in the surrounding nature
Enjoy a full day of discovery of the contours of the Atlas Mountains and the Ourika Valley. An unmissable visit to the Berber villages in this mountainous region and their markets before stopping over at a women's cooperative producing argan oil. The day's finale is the amazing seven waterfalls above the village of Setti Fatma.
Promoting environmental awareness among children
The Royal Palm Kids Club also offers activities to make our little ones aware of environmental issues from a very young age. This 500sqm space dedicated to children offers various activities such as painting and craft workshops and oriental dancing to stimulate their creativity. They also have the opportunity to run off their energy on the sports fields or in the heated swimming pool. In addition, they will love the balanced and tasty menus prepared by the Chef. Moreover, the Kids Club will host green workshops in the context of the COP 22 conference to make the children more environmentally aware and turn them into environmentally responsible citizens.
A wonderful local meal at L'Olivier
The Chef of L'Olivier Restaurant, Yann Meinsel serves a refined cuisine that promotes local produce. He pours his passion into preparing exquisite regional products, fruit and vegetables that are in season, most of which are supplied directly from the vegetable garden of the Domaine or grown locally and produced in an environmentally sensitive way.
The menu features a Tuna tartar with olive oil, lime and ginger, Fresh red mullet fillets with pesto, a Prawn soup with coconut milk, lemongrass and ginger, a Beef carpaccio with truffle oil served with a salad tossed with Reggiano parmesan shavings or a Grilled entrecote with Béarnaise sauce. The tempting choice of sweet treats includes Chocolate pots, a Seasonal fruit crumble and a selection of Homemade ice cream and sorbet.
A moment of relaxation and well-being at the Domaine's Spa
Immerse yourself in a world of well-being and relaxation with all-natural Oriental treatments using high-quality products from the Marokissime brand. You can also enjoy a steam bath with seven native plants of Morocco followed by a sugar body scrub and a massage with pouches of aromatic herbs from the Moroccan terroir.
​Rejuvenating yoga sessions with a view of the Atlas Mountains are also available on the Domaine to unwind.