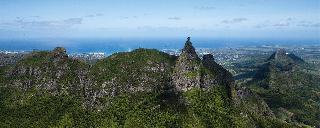 The impressive line-up of rugby greats for the second edition of the World Club 10s, backed by Beachcomber Hotels as Platinum Sponsor, is now complete with the confirmation of Perth-based Western Force and the Italian All Stars team.

The Western Force and a first-ever Italian select side managed by former Italy flanker Aaron Persico have been confirmed as the last two sides in this year's World Club 10s, which will be held in Mauritius on 18 and 19 June. They will be competing alongside the Asia Pacific Dragons, who finished third in the inaugural edition, reigning English champions Saracens, Top 14 holders Stade Francais Paris, three-time European Champions Cup winners RC Toulon of France, four-time Super Rugby finalists Cell C Sharks, as well as the Australian franchise and six-time Super Rugby finalists, Aquis Brumbies.

The Italian All Stars are the second invitational side at the 10-a-side tournament alongside the Asia Pacific Dragons. The side coached by Zane Ansell will be drawn from Pro12 clubs Benetton Treviso and Zebre, as well as Petrarca Padova, who played in the first World Club 10s, Rovigo Delta, Mogliano and Amatori San Dona from Eccellenza, Italy's top division.

It's a huge honour for us to be playing in the World Club 10s and to play against so many world-class teams. The Italian All Stars is an exciting concept and the first time a Barbarians-style selection has been made from some of Italy'[s top clubs. I'm excited to be managing this squad for the World Club 10s and I think we'll add another playing style, along with the sides from Australia, South Africa, England, France and Asia-Pacific' said Persico, who played five times for the Barbarians.

'I played in England and France during my career, so I'm familiar with those clubs, and I grew up in New Zealand, so I'm also pretty familiar with southern-hemisphere rugby. I think we'll be the underdogs, but I like that and I know our players will. I can't wait to get to Mauritius and I think this will be a memorable tournament for everyone involved.'

Western Force CEO, Mark Sinderberry said facing top-class northern-hemisphere teams would be a first for the club and is part of the overall appeal of the event. 'The Western Force are excited to be part of this year's World Club 10s in Mauritius. It should be a fantastic event, with some tough competition.'

He added that, 'As we expand our brand globally, the World Club 10s holds great appeal by bringing together top franchises and clubs from both the northern and southern hemispheres. The Force are excited to be one of eight top teams battling it out in Mauritius and look forward to what could be an interesting mix of playing styles.'

Mauritius tourism officials were delighted at the final field for what should be a great sporting and social event. The World Cub 10s will crown a week-long rugby festival also featuring amateur clubs, universities, women's teams and age-group sides competing in supporting events. All of the finals will be held at the main 16,000-capacity Anjalay Stadium on Sunday 19 June.
'I am pleased that the organisers have delivered eight top-class teams' said Arnaud Martin, Chairman of Mauritius Tourism Promotion Authority (MTPA). 'The World Club 10s is shaping up to be a special week. A world-class sporting event featuring top teams and players from around the world will be the main highlight of an action-packed calendar of events that will take in many of the most famous attractions in Mauritius. It will be a special occasion for everyone involved.'

Beachcomber Hotels' sponsorship of this prestigious event includes accommodation for the players taking part in the tournament at Trou aux Biches Resort & Spa, Le Victoria Hotel, Le Canonnier Hotel and Le Mauricia Hotel. They will also enjoy a day of golf at Paradis Hotel & Golf Club on 15 June.

The tournament is owned and organised by Carinat Marketing and sanctioned by World Rugby, Rugby Union Mauritius and the Ministry of Youth and Sports of Mauritius. The other sponsors are the MTPA, Air Mauritius, Emtel, Pepsi, MC Vision, Ciel Group, Impact Productions, BRM (official watch), Samurai (official ball), City Sport, Otayo, Tropic Knits and Fortis Clinique Darné.