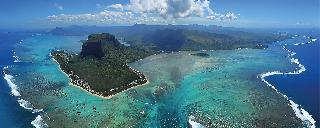 A 4-star+ Beachcomber property on the north-west coast of Mauritius, Le Victoria Hotel has been named by the world''s number one integrated tourism group as the best among its 10,000 partner long haul destination hotels worldwide for 2016.



Le trophée a été remis récemment au Directeur de l'hôtel, Rico Paoletti par la responsable de TUI pour la destination, Sabine Döring, en même temps que le 'TUI Holly Award' et le 'TUI Top Quality Award'. Ces trois récompenses soulignent l'excellence et la qualité de service offertes par Le Victoria. Elles sont également un gage de qualité et de satisfaction pour la clientèle.

Le 'Holly Award' est décerné aux 100 hôtels TUI les plus populaires au monde. C'est la plus haute distinction conférée à un hôtel TUI, représentant tout ce qui rend des vacances avec TUI parfaites: une grande attention aux détails, un service impeccable et une cuisine exceptionnelle.

Cette récompense est octroyée sur la base de la plus importante enquête réalisée auprès de la clientèle sur le marché touristique allemand. Un demi-million de clients de TUI élisent chaque année les établissements figurant parmi la crème de la crème de l'hôtellerie internationale. C'est également un critère de réservation important pour les clients de TUI et un précieux argument de vente pour les agences de voyage.

Le prestigieux 'TUI Top Quality Award' est remis aux 250 meilleurs hôtels selon l'enquête réalisée auprès de la clientèle de TUI.

Dans la tradition des hôtels Beachcomber de toujours innover et améliorer la qualité du séjour des clients, un programme d'agrandissement et de transformation des installations est en cours au Victoria, qui inclut un nouveau concept réservé aux adultes, 'Victoria for 2'

Adresse privilégiée pour les familles à l'île Maurice, l'hôtel Le Victoria maintient ses activités habituelles pendant la durée des travaux, qui s'achèveront en décembre 2016. Les clients découvriront alors les nouveaux atouts qui viendront rehausser le cadre raffiné de l' hôtel, tout en préservant son charme et son caractère uniques, pour le plus grand plaisir des habitués.