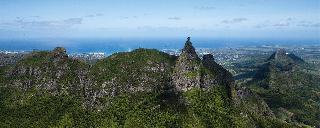 You won't get any fresher than the fish and seafood at Dinarobin's main restaurant on a Saturday night. Indeed, the hotel treats its guests to a fabulous "fishermen buffet" that features scrumptiously prepared bounty of the sea for all tastes.
The decor is simple and elegant with the emphasis on the buffet display itself. The evening theme draws its inspiration from a traditional fish market while recreating the lively vibe of a typical fishermen village in Mauritius.
Like always, special attention was given to the buffet display to emphasize the freshness, quality and variety of the food. The large lights which hang above the buffet areas are draped with light fabrics to create a sailing ship effect. The freshest catches-of-the-day are beautifully laid out on ice beds set off with miniature wooden boat models, wicker fish traps and exotic shells.
When it comes to food choice, the tuna sashimis are a must! You should also try the oysters and local sea urchins to turn your meal into a culinary adventure. Even staple food is revisited with a marine touch as prove the delicious "fettucine" with seafood!
You will not be disappointed if you want to eat local. According to the season, you will taste tuna, local prawns and crayfish, dorado, mussels and clams prepared in many ways. To cater for all culinary tastes, a cooking station is also available for those who are not fans of seafood and would rather eat meat or chicken.
Our final advice to make the most of the evening: take your time to browse the buffet. There can be no bad choices there!