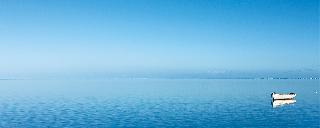 A la veille de son 65ème anniversaire, le groupe hôtelier Beachcomber change d'image et d'architecture de marque. Enseigne phare de l'hôtellerie de l'océan Indien, Beachcomber se
renforce et révèle son essence même.
Au coeur d'une industrie touristique se trouvant dans un cercle vertueux, Beachcomber connaît, comme d'autres acteurs, une embellie permettant de voir l'avenir avec optimisme.
Et c'est dans ce contexte conjoncturel positif, avec des profits opérationnels en hausse et une volonté de développement extérieur que Beachcomber renforce sa position. Fort de cette situation, Beachcomber se lance dans le projet de création d'une nouvelle image, révélatrice de ses valeurs, un projet impliquant toutes ses équipes, bien plus qu'un changement de logo…
Beachcomber a choisi le symbole du nautile car son nom, « Beachcomber » veut dire « celui qui collectionne les plus beaux coquillages que la mer a déposés ». Avec son B central, il devient également un signe solaire, irrigué par les mouvements de l'eau sur le sable. Beachcomber se dote d'une nouvelle identité visuelle et développe un nouveau projet d'entreprise autour du concept « The Art of Beautiful ».

« The Art of Beautiful » chez Beachcomber c'est « Voir la Beauté, Vivre la Bonté »
C'est l'essence de ce qui fait la singularité de Beachcomber : la beauté des lieux est renforcée par la bonté des gens. Sans réinventer Beachcomber, nous révélons son supplément d'âme et ce qui fait sa différence. Et comme un art ne peut exister sans ses artisans, nous avons créé un programme complet de rituels avec toutes les équipes pour accueillir nos hôtes et leur faire vivre des moments d'exception.

Cette nouvelle identité va se déployer dans les semaines à venir sur tous les hôtels du Groupe. Les hôtels conservent leur nom mais vont maintenant partager le nautile, notre nouvel emblème commun. Avec la nouvelle architecture de marque, les 11 hôtels de la collection vont désormais intégrer Beachcomber dans leur nom : en deuxième ligne lorsqu'ils sont à Maurice, en première lorsqu'ils sont hors de Maurice. Le nom Beachcomber se renforce, et crée désormais le lien fort entre les différents sites et hôtels du Groupe.
Gilbert Espitalier-Noël, CEO de Beachcomber explique : « Ce nouveau branding va bien au-delà d'un exercice de design, il s'inscrit dans la continuité de notre stratégie d'entreprise, de notre approche interne et nous assure une cohérence de notre marque. Nous ne réinventons pas Beachcomber mais révélons toute la part d'immatériel qui fait sa « vraie beauté ». Ce projet étant la continuité du travail initié précédemment sur nos valeurs intrinsèques, il va nous apporter une dynamique nouvelle en impliquant davantage nos équipes ».
Partenaires
La refonte du programme d'identité de Beachcomber a été accompagnée par Louise Beveridge, consultant indépendante et Dragon Rouge, agence de design et d'innovation.